Home > Movies > Interviews

The Rediff Interview / Mira Nair

'Bachchan & Depp should be incredible together'

March 21, 2007



For the maker of hits like Salaam Bombay! and Monsoon Wedding, life is good. The recent success of her latest film, The Namesake in America has been widely publicised and it looks like the film would do well in India too.

Yet Mira Nair decided to do the film out of tragedy. It was during the moment of grief and loss that the director read The Namesake, a novel by Pulitzer prize winner Jhumpa Lahiri, which made such an impact on her that she decided to drop everything and make a film on it.

Santosh Desai caught up with the award-winning director and got her to share her thoughts on the film and future projects, one of which features Amitabh Bachchan and Johnny Depp.

How relevant is Ashima's character in today's America?

All the characters speak volumes because they are utterly real. The story has a universal appeal and that is why the response in the American box office has been so overwhelming. People connected with the story, which incidently had no goras. Millions of us have left home and we all know what it's like to be an outsider. That is why people could relate to The Namesake.

How did you decide on casting Irrfan Khan, Tabu and Kal Penn?

I discovered Irrfan 18 years ago when I cast him for Salaam Bombay!. And even then I knew he had potential. I was looking for a character that would do justice to his brilliance. For Ashok Ganguly, everything just fell into place.

But Tabu's eyes were the clincher for Ashima's character. I cast her because of her eyes. They are a map of life. Ashima's experiences spanning 30 years from a delicate bride to a widow was so beautifully portrayed by Tabu.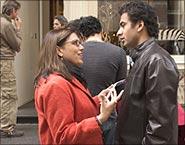 However, I had no say in Kal's selection. My 15-year-old son Zohran saw to that. He's a big fan of Kal's movies and picked him. I must say that he does fit into Gogol's shoes because he's born and raised in the US. And he approached the role with such hunger!
What comes across from in all your films except Salaam Bombay!, is the fact that they are tales of displacement, of resettlement and of confusion? Are we going to see more of these films from you?
You know, it's not like I have an agenda to make films on resettlement, but I understand these stories. Having lived away from India ever since I was 19, I understand what it's like to live between two worlds. And cinema is so powerful in understanding this dilemma.
For example, I have shot both New York and Kolkata in a similar manner because for a character like Ashima, whenever she glances out of a taxi window she will see the Ganges instead of the Hudson. So I guess the dilemma of the outsider, or rather the question as to who really is the outsider burns me.
Why The Namesake?
Well, Jhumpa Lahiri has told a stunning story in The Namesake. It a tale of loss, about losing one's parent in a foreign country, and I experienced the same pain recently. It was during this period of mourning and grief that I read the book and I thought that should drop everything and make this film.
So how do you think the Indian audiences will react to your film?
I do hope that audiences will like it. It's actually a very emotional film, and everyone can relate to some part of it. Also, in India you know we love watching good family stories. Apart from the ridiculous family films that you get to see here, I have tried to make a real family film about a son, his mother, his father and the bond that they share.
What is most interesting is the fact that you have chosen Uganda to make your home.
(Laughs heartily) I went to Uganda for the first time in 1988 when I was researching for Mississippi Masala. It was love at first sight with my husband Mahmood Mamdani, a Ugandan professor. We now live eight months in New York and four months in Kampala. In fact, I became a gardener there! And when you plant trees in your garden, you want to go back and see how much they have grown.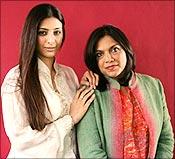 Also, I have set up a film school, Maisha there for East African and South East Asian film students. I genuinely feel that if we don't tell our own stories, then nobody will. It's important that they learn the technique to express our pride, our glory and our identity. So there's a lot to take me back to Uganda.
Also, it's high time that we now have a worldview, to not just look at the world from a single point of view, but to really mix it. Personally, I am quite comfortable with living in Delhi, New York or Kampala.
What about Shantaram and Gangsta MD?
I am deeply immersed in Shantaram now. Eric Roth, the scriptwriter, and me plan to wrap up the script and start the production plan by June. Shooting begins in November and will continue till March. Amitabh Bachchan as Kader Bhai, and Johnny Depp as Shantaram should be incredible to watch.
As for Gangsta MD, it's my Afro-American remake of Munnabhai MBBS. Since I will be busy with Shantaram for two years, we are looking for a new director. However, I plan to produce the film and 20th Century Fox is interested. So that one too is pretty much on.