Home > Movies > Interviews

The Rediff Interview / Irrfan Khan

'I don't believe in being loyal'

Raja Sen | March 14, 2007


| | |
| --- | --- |
| Irrfan Khan | |
| | |
| | |
| | |
| | |
| | |
| | |
He lives among an industry that isn't sure how to spell his first name.
But Irrfan Khan knows no boundaries, and while he tries out the odd Bollywood thriller, his roster of global directors is an abnormally exciting one -- Wes Anderson, Michael Winterbottom, Asif Kapadia, with several others in the pipeline. Irrfan plays the pivotal role of the father in Mira Nair's adaptation of Jhumpa Lahiri's critically loved novel, The Namesake.
The actor isn't sure what to think about the film yet; it'll take him a while to make up his mind. For now, here are some snippets of what he has to say:
The Namesake puts you in a role that isn't much like your regular on-screen persona...
When I first read The Namesake and was offered the role, I had no idea that my role would have any significant impact at all. The way Miraji has shaped it, however, it has become a special role for me -- the kind I haven't done before. I have never known a person like this, and it was quite a challenge. He is a man who never talks about his trauma, but slowly, only by the movement of the story, you understand the world within him.
Did you recognise the challenge the character posed instantly?
On reading the script my first reaction was, 'Oh my god, he's so silent.' He doesn't have dialogues at all! How then to communicate his inner world to the audience? Then there were some physical characteristics he had; he was a Bengali. So they have their own kind of body language, their manner of speaking, their accent -- which looks very put-on if you don't do it correctly. So that was very challenging for me.
In an original script, the actor creates the character to a large extent. In a novel, the character is already there. How do you approach this as an actor?
You have to go near 'that kind' of character. And, if need be, you bring that character near you. Sometimes a character has a very strong, very particular kind of feel. So sometimes, you want to do characters which are away from you, which you don't know but to brave yourself and go towards them, that's more challenging -- and more satisfying. Sometimes.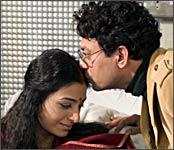 You've worked with some of the world's edgiest directors. Describe Mira's directorial style.
She has grown over the years. She is a very family person and this film deals with family. She brings a lot of warmth to the story, the characters. And she has her unique take on the story. The Namesake is written by the renowned writer Jhumpa Lahiri, but still Mira has told the story from her perspective -- which is very interesting. Sometimes, the director might want to recreate the novel, but she hasn't done that. She has her own take on the story and she tells it her way.
Is that 'own take' still loyal to the source novel?
See, it's not a question of being loyal. I don't believe in being loyal. It's about capturing the spirit of the book, but you have to have your own view of the story. Your own interpretation. The way you see the story, the way you would like to tell the story. So that's the freedom, and that's the whole point of making the film. Otherwise why would you want to recreate the novel? You have to present it with your point of view. That's what makes it interesting. Otherwise, Shakespeare's plays wouldn't have been as effective -- the stories are there, people do them even today, but they do it their own way.
In a situation like The Namesake, where a director has an individual take on an existing novel, does Mira incorporate actors' creative inputs into her process?
She has a very strong sense of what she wants to do with this film. And she wants the actor to understand that. She called us 10-12 days before the shoot, and she wanted to communicate what she had in mind, and then you think about what you have in mind. It becomes a collaborative process but she has a very strong sense of the story -- of what she wants to tell. She's very specific, yes, but I'd say she's still open to suggestions.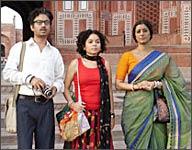 You've worked with Tabu frequently, and well. Has she also evolved an actress, you feel?
I think she hasn't been given enough. In the sense, she has a lot still left in her. Everybody casts her as a very sensitive woman -- and I think there's a lot more to her personality than just that stereotyped 'sensitive', middle-class woman. Her sense of humour is great, I think nobody has tapped that. Nobody has done her menace...
I think we see a glimpse of that in Maqbool.
Yeah! What a glimpse! You see what she's done in that film! So Tabu really needs films that do justice to her talent.
And how has she done in The Namesake?
See, for me I'm very subjective. I think she's pulled it off very well. I haven't seen the film very objectively yet, because it takes time. After a few months, you have perspective -- you don't have that when you're still involved with the film.