| | |
| --- | --- |
| Colin Firth and Aishwarya Rai in The Last Legion | |
| | |
| | |
| | |
| | |
| | |
| | |
Advertisement
August 21, 2007 15:25 IST


Towards the end of director Doug Lefler's The Last Legion, Aishwarya Rai [Images] is fighting a mean looking bald, heavyweight Goth, who has scary tattoos on his face. The Romans are in Britain having been driven out of Rome, since their empire has fallen to the evil Goths. Rai is Mira, a Kalaripayatu expert from Kerala [Images] (did Kerala exist in 460 AD?), who has a joined a band of fighters set to protect the life of a young Romulus Augustus -- the last Ceasar.

As the battle to defend the Roman Empire continues, Rai first finds herself overcome by this ferocious Goth, until she pulls out her special weapon -- a knife that has hidden compartments for two extra blades. And when she finds a brief moment of weakness in her opponent, she plunges the knife straight into his neck. The opponent collapses, as Rai -- the sexy Indian warrior looks out for her next target.

Also Read: Salman, Ash have a poor run overseas

Two years ago, The Last Legion was supposed to the film that would have taken Rai into the world of A-list Hollywood stardom. But this past month saw no buzz for the film that also stars Colin Firth and Ben Kingsley. The studio, the Weinstein Company, had lost its faith in the film and they did not hold advance press screenings -- a clear sign that the film would be a stinker. Rai, who was in the US, cancelled her one television appearance to promote the film.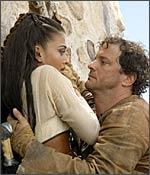 The Last Legion became an orphaned child. It opened this past Friday with not much backing from its producers and performed very poorly at the box office -- collecting a mere $2.6 million on over 2,000 screens. 
The Last Legion is a heavy action driven vehicle that oddly connects the dying days of the Roman Empire with the times of King Arthur -- a connection made through the magical sword called Excalibur. If the myth has to be believed, Excalibur was crafted for Julius Ceasar and it lay hidden in an underground passage in a far flung island, until the young Romulus found it and carried it with him to England [Images].
Arthur, according to this tale, was the son of Romulus and was trained by the wizard Merlin. And Merlin may also have been Ambrosinus (Kingsley plays both Merlin and Ambrosinus), who was Romulus' teacher.  
Even in the days of low budget, but well-executed teenage comedies (Superbad was a huge hit this past weekend), every so often Hollywood takes the risk of producing films like The Last Legion. Actors and crew members are taken to remote locations (The Last Legion was reportedly shot in Turkey), loads of money is spent, with the hope that the audience will come for the film. Some segments of the audiences are drawn into films like this because of the battle scenes (now enhanced by computer imagery), the tale of Excalibur and maybe even strong performances by its lead actors. 
I saw The Last Legion over the weekend, mostly because I was curious to see Rai in her first Hollywood production. And I have to say that the film is not half as bad as I expected it to be. It certainly doesn't have the power of HBO's Rome series.  The battle scenes hold some interest, but this film is not a Braveheart. Firth looks bored and sleepwalks through most of the film, while Kingsley looks dull and old with his tacky white beard. Hopefully, they got well compensated for the project.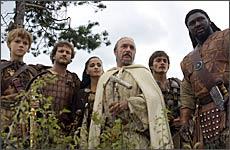 Rai, on the other hand, tries so hard that she manages to stand on her own against her two co-stars. She looks a tad bit strange -- with her darkened skin tone and her hair tied back. But she speaks in her perfect upper class Indian English accent (the rumours about her voice being dubbed are false) and she makes every attempt not to throw away her lines, as she did in Bride and Prejudice. 
Rai, the warrior, is fun to watch. Although her performance is enhanced by quick edited shots and body doubles, the sense we get is that Rai is enjoying this new challenge. She walks among men with her armor, fights all sorts of bad guys and kills a few in the process. Kalaripayatu training or not, but her co-stars are certainly in awe of her.
Then, there is a caring Rai who projects her motherly instincts towards the young Romulus.
Finally, there is Rai, the seductress. When we first see her, Rai is bathing in a lake. She is fully clothed and no, she does not undress in The Last Legion. But when she steps out of the water, her wet clothes stick to her shapely body. And for a brief moment, Firth looks a little less bored. 
Rai's Mira does not wait for Firth's advances. Instead, she walks up to him and asks, 'Is that all you see me as -- a warrior?' 
To which Firth reluctantly remarks, 'You are a handsome woman.'
Later, she slips into Firth's bed, even though he seems to be quite content on sleeping alone. And then she slowly moves her face towards his. But before their lips can touch, the scene shifts to a shot of a glorious sunrise. I wonder if Rai's father-in-law had anything to do with the abrupt ending of that shot?
Rediff Rating: