| | |
| --- | --- |
| Aishwarya Rai in a still from The Last Legion. | |
| | |
| | |
| | |
| | |
| | |
| | |
Advertisement
August 21, 2007 14:17 IST


In the clumsy Marigold, the twain of East and West meet with the aesthetic grace of the Amritsar [Images] massacre,' declared the British publication The Independent in reviewing Salman Khan's [Images] first English language film.

Despite having been directed by Hollywood filmmaker Willard Carroll, and featuring Ali Larter [Images] (who is getting a lot of praise for her TV series Heroes), Marigold wilted in no time.

Americans and Brits never really got out to see it. The awareness for the film in the mainstream was negligible. In America, the distributors have not revealed the three day weekend gross but it is said to be around $200,000, less than one third of what Partner, the hit film starring Salman and Govinda [Images], grossed in its first weekend in North America.

In UK too, Marigold isn't doing good business. 'It is the worst of both worlds,' concluded The Independent.

Giving the film a slightly better review, Peter Bradshaw in another British publication The Guardian, gave it two stars (out of five).

It was also a bad week for Aishwayra Rai whose The Last Legion, with Ben Kingsley and Colin Firth was an instant flop. But Shah Rukh had better luck. Chak De! India, which opened to so-so numbers, remained steady in its second weekend, at least in North America.

The British press took more notice of Marigold than its American counterpart.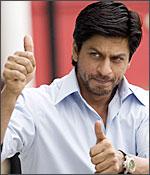 'The East-West crossover comedy may well come to be a familiar genre,' Bradshaw wrote. 'This one concerns a B-list American star called Marigold (Ali Larter) who finds herself in a Bollywood musical and falls for the choreographer Prem (Salman Khan). It's goofy and sweet. There's also a very, very tentative joke about gayness: interesting for western audiences who detect a little campery in the peacock beauty of the Bollywood leading male.'
In America, The New York Times complained the film lacked life.
But there was good news of some sort for Yash Raj films and Shah Rukh Khan [Images] whose Chak De! India fared better in its second week than most Hindi films do, at least in America.
Though it opened to a modest $385,000, it dropped by just about 25 per cent (the customary drop is 50 per cent). With $250,000 taken over the weekend, the film could reach $1 million in North America.
In the UK, where Shah Rukh is a far bigger star with the desis than in America, it is, ironically, faring worse. Even then, its final tally could be about $600,000.
Meanwhile, Aishwarya Rai [Images] was in a terrific form last week as she attended the showing of Guru at the India Splendor Festival in Los Angeles, along with husband Abhishek Bachchan [Images] and director Mani Ratnam.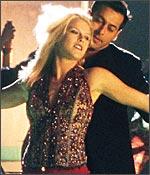 She was also in New York to announce next year's world tour with father-in-law Amitabh Bachchan [Images], Abhishek and a raft of Bollywood actors. In between, she also talked of the excitement of being part of the ensemble cast of the new Pink Panther 2 film with Steve Martin playing the bumbling detective.
The film will be shot in Paris, and also features Andy Garcia [Images], Alfred Molina [Images] and John Cleese [Images]. Ash said she had watched the early Pink Panther films starring Peter Sellers, and was excited to be part of the new film.
'It has an excellent ensemble cast,' she said. "and above all, there is Steve Martin.'
But what she would not talk about was The Last Legion, her first Hollywood production, which was being dumped in some 2,000 theaters in North America with no red carpet and little publicity.
The newspaper ads for the film -- a drama set in the early years of Rome -- showed her along with Colin Firth. But looking at the blurry pictures, you could not make out the stars.
Ash plays a Roman warrior called Mira. The film, which cost some $30 million, was received awfully by the press, and  grossed a paltry $2.5 million. It may end its business with just about $5 million.
Ash's Bride & Prejudice, on the other hand, which cost about $5 million grossed a heady $7 million in North America, apart from earning a strong $10 million in UK.
There seems to be no future for The Last Legion, at least in North America. It is expected to drop at least 30 percent of the theaters by Friday.
Giving the film one star out of four, The Star Ledger review echoed the thoughts of other reviewers. 'An action spectacle with bloodless swordplay and pedantic speeches,' the review said, adding 'The Last Legion is like 300 minus the visual panache.' The unexpected hit film 300 grossed about $400 million worldwide.
'The odd thing comparing 300 and Legion is that the new movie has more famous names in its cast than the Spartan epic,' the review added. 'The casting is far more inventive than the storytelling,' it complained.
The film, directed by a comparative newcomer Doug Lefler, 'is a somersault of clumsy political sloganeering,' the review continued. 'It would be offensive were it not so boring.'