Ash to star in Pink Panther 2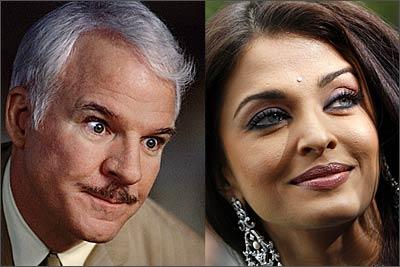 Bollywood beauty Aishwarya Rai [Images] is set to star with actor Steve Martin in The Pink Panther sequel.
Actors Andy Garcia, John Cleese and Alfred Molina have also joined the crew of Columbia Pictures and MGM's The Pink Panther 2.
The Indian actress will star as a detective and expert along with Spiderman 2 villain Molina and Garcia, who join forces with bumbling French police detective Jacques Clouseau (Martin) to catch a thief who has been stealing artifacts from around the world.
Cleese will play Clouseau's superior chief inspector Charles Dreyfus in the picture, Variety magazine reports.
Agent Cody Banks director Harald Zwart will be directing the film, penned by Scott Neustadter, Mike Weber, Lowell Ganz, Babaloo Mandel and Steve Martin. Produced by Robert Simonds, Ira Shuman will be exec-producing the film.
The sequel, which was announced in March 2006, is scheduled for a release on February 13, 2009.
Text: ANI | Photographs: Getty Images