Home > Movies > Reviews

An unnecessary Pink Panther

Raja Sen | April 28, 2006 00:20 IST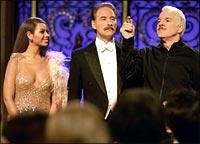 Why?
There have been bad remakes and not-so bad ones, versions both blasphemous (Gus Van Sant's Psycho) and inspired (Richard Linklater's Bad News Bears), but this Steve Martin version of The Pink Panther defies rationale. It isn't enough to describe the film as pointless -- for the best parts of the Blake Edwards series have been characterised by whimsical absurdity -- but this is an entirely unnecessary project, one which should never have been embarked upon.
The Pink Panther series, beginning with the 1963 film of the same name, followed the adventures of a diamond with a life roguish enough to merit the famous feline toon as an alter ego. A big rock, it was frequently stolen, and the seemingly constant task of its retrieval fell squarely on the shoulders of one French detective, as a result of his first handling of the caper. The films would open with the Pink Panther diamond -- thus named because of a pink, panther-shaped flaw in the massive solitaire -- being pocketed, and the French police telephoned. Another job for Inspector Jacques Clouseau.
| | |
| --- | --- |
| | More on rediff.com ! |
| | |
Inspector Clouseau, a fumbling lunatic with a misguided penchant for perfection (and self-defense), is one of the most hilarious characters to grace the screen. But this isn't because of the way he's written. The plotting isn't great, and the dialogues rarely brilliant; Inspector Clouseau is granted immortality by the actor. The late Peter Sellers was sheer genius, and he brought magnificent insanity to the character, with tremendous physical comedy, an extraordinarily bastardised accent, and an irresistible naïveté. Unmitigated disaster just happened to be his calling card.

Sellers made Clouseau, and the character cannot exist beyond him. The idea is akin to that of a non-Stallone Rocky film, only much, much worse. These are acting shoes that shouldn't exist, and filling them is impossible, even if it is Steve Martin.

Martin, a gifted, comedian in his time -- he's been heading downhill steadily -- has fine screen presence, razor-sharp timing, a melancholic method to his madness, and can fall over sofas like the best of them. Still, playing the lead in this suicidal remake is too tall an ask for anyone, let alone the star of the cringe-inducing Bringing Down The House movies. Had this been a smart, well-executed film, with a polished, witty script and genuine comic moments, it would have fallen well short. But that's purely hypothetical, because this version, directed by Shawn Levy (how many duds must we endure before we label a man a hack?) is none of those things. This Panther is mediocre, unimaginative, puerile, and nowhere near funny enough.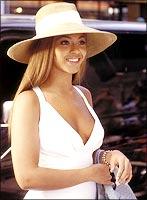 First of all, it's set (almost entirely) in France, a move rendering the iconic accent jokes redundant: What is the point of seeing a Frenchman speak in badly accented English to other Frenchmen whose accent is only marginally better? While Martin does grapple gamely with an accent coach (plucked inexplicably from thin air) over the nuances of saying 'Hamburger', the ideas seem too dated. Since Seller's marvellous near-indecipherable exaggeration of the language, the joke has been beaten to death in films and television. By now, watching a Frenchman say 'eez' instead of 'is' is just old hat.
It also spreads itself too thin. 'Dumbing it down' was never something the Pink Panther films required, but the director seems to be intent on making sure everybody 'gets it', so much so that there isn't much 'it' left to get. In this version, the diamond itself is pink, and that's only the beginning. Inane teen comedy staples -- jokes about flatulence and Viagra and childish attempts at innuendo -- abound, albeit in misplaced situations. Thank god the opening sequence is still that of the fab feline skipping around to Henry Mancini's most memorable theme.
The cast is bland. Kevin Kline, a fantastic comedian and one of my absolute favourites, is wasted in a terribly scripted version of Chief Inspector Dreyfus, a role Herbert Lom was incredible in. Jean Reno, as good as actor as can be, is given nothing to do at all, and all this while you feel sorry for Martin being drafted into an impossible mimicry routine. As for Beyonce, the gorgeous singer has never been much of an actress, and just to tell you how bad this film is, her other secret agent movie, Austin Powers: Goldmember, was actually better. At least it had a few moments, especially the opening credits.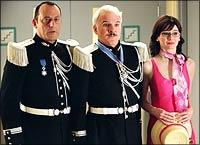 Pink Panther has two (count 'em) good scenes: one involves Martin sending a giant metal globe spinning out into the street, causing obvious mayhem; and the other is the film's only clever bit, Clive Owen as secret agent 006. The wonderful Brit actor is head and shoulders above the film he's cameoing in, and it's a good dig at his dropping out of the James Bond race. But that, my friends, is it.
What if, you may ask, you haven't ever watched a Pink Panther film? What if your opinion is unlikely to be coloured by such Peter Sellers enthusiasm? What, then, would you think of this film? Not much at all, I'm afraid. It is a stupid movie, and the best thing that can be said about it is that it's harmless -- as in it isn't offensively awful or unwatchable. That still doesn't make it a fun film, leave alone a 'good' one, and is best left avoided.
Which brings us to the question I began this review with: Why does this film exist?
Rediff review:

Want to see this movie? Check out Rediff Movie Tickets!



What do you think about the story?








Read what others have to say:





Number of User Comments: 8








Sub: Pink Panther

I dont think the Pink Panther needed to be panned so much when the movie is actually hilarious. True, one needs a bit of French ...


Posted by Sudeshna









Sub: Stupid review

I agree with Vikram, looks like someones got paid for writing such a review for a decent enough movie.


Posted by Geetika









Sub: Unnecessary Criticism

The Movie, so badly criticized by Mr. Raja is indeed very Hilarious. I bet the criticism was Unnecessary. I think Rediff should stop misguiding People ...


Posted by Kcalpesh B Ajugia









Sub: Wrong Review Mr.....

Miss-guiding wrong Review I feel. I saw the movie, its quite Hilarious. I think any one would really enjoy the movie. Dont go by the ...


Posted by Kcalpesh B Ajugia









Sub: Not an unnecessary movie... I enjoyed the movie...

I think Mr. Raja Sen has a different perspective than most of the Inidan movie patrons. I would like to draw a parallel between Indian ...


Posted by Vikram Aditya






Disclaimer