Advertisement
March 24, 2006 15:22 IST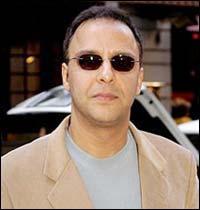 Once known to take long gaps -- four years on an average -- between films, filmmaker Vidhu Vinod Chopra is now on a roll and appears to have a release every year.

"It's just that I took a long time to write the films and they are releasing now, he says. "It takes time to write a good story. When it has been written, I'm off to make the film."

So is he going the Factory way of regularly churning out movies? Chopra rubbishes the question: "I can never start a production house producing five films year after year because that's not me. I prefer to set out from home at noon, and do things my way."
| | |
| --- | --- |
| | More on rediff.com! |
| | |
The director is currently excited about his forthcoming films, Eklavya and the sequel to Munnabhai [Images] MBBS. "I cannot make films if I cannot relate to the story," he adds. "Filmmaking is all about telling a good story. Some people first think of profits, then the story. I cannot think that way. I spent about five years writing Eklavya, and about two years to write Munnabhai Part II."

But isn't it true that the sequel is called Munnabhai Meets Mahatma? Chopra explains, "That is a tentative title. I prefer to call it Munnabhai Part II now." Does it feature Mahatma Gandhi [Images]? "Yes. There is a character called Mahatma Gandhi, but I will not reveal anything more."

The director seems more forthcoming about Eklavya. He says it is the story of a royal gardner, and has Amitabh Bachchan [Images] playing the lead. But he clarifies that the story has nothing to do with the mythological story of Dronacharya and his student, Eklavya. "It is a two-hour film and took me five years to write. I cannot tell you the story in five minutes. I can only say it is not a boring art film. It is entertaining, but it deals with what is right and wrong."

Chopra has formed a sort of bond with his Parineeta [Images] cast -- Sanjay Dutt [Images], Saif Ali Khan [Images] and Vidya Balan [Images] -- as he is repeats them again in his forthcoming films. "I don't have many friends," he says. "So, whenever I get close to people while making a film, I repeat them in my movies. I am comfortable that way."