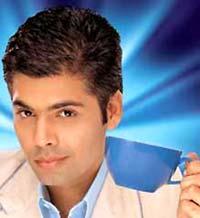 At the Federation of Indian Chambers of Commerce and Industry FRAMES event in Mumbai, Karan Johar announced that he will release his new film Kabhi Alvida Na Kehna in August.
The film, starring Amitabh Bachchan, Shah Rukh Khan, Abhishek Bachchan, Arjun Rampal, Rani Mukerji and Priety Zinta, got delayed after Amitabh underwent surgery in November last year.
The Big B's illness cost more than Rs 100 crore to the industry, as most of his films got postponed.
Now that Amitabh has returned to the sets -- he started shooting on Monday -- Karan is very gung ho about the project.
| | |
| --- | --- |
| | More on rediff.com! |
| | |
"All of us prayed for Mr Bachchan and it was good to see him back in good health. He is a fabulous actor and I always look forward to work with him," Johar said.

KANK is one of the biggest and much-awaited films of the year. Besides the fact that it features the big stars, this will also be Karan's first directorial venture after Kabhi Khushi Kabhie Gham in 2001.

KANK has been extensively shot in New York and its suburbs. Amitabh could not complete his portion of the shoot and so he shot bits of it at the Yash Raj studio in Mumbai.

Earlier in the day, Johar had a public conversation with tennis star-turned US-based producer Ashok Amritraj at the FICCI-FRAMES event, much like Koffee With Karan, Johar's popular show which used to be aired on Star World.

Johar asked questions like why Indians could not make waves in Hollywood, to which Amritraj replied, "The press overplays for Indian actors. The hype is too much but not much has actually happened for Indian actors. I think technicians from India have a better scope in Hollywood. The day an Indian film makes $25 million at the US box office, things will change for Indian actors and films in the US market."

Asked whether he would do a Hollywood film in future, Johar said, "It's difficult for me to do a Hollywood film because I make films that appeal to my sensibilities. I will do films in Hindi only because I want to cater to Indian masses."

Johar opined that Hollywood studios looking to produce Hindi films was a pointer to a better future.

"Sony Pictures is producing Sanjay Leela Bhansali's next film, and that is a good sign." he said, adding that he had not yet planned any deal with any Hollywood studio. 

"I feel the Hollywood studios are opting for a 'wait and watch' theory for the Indian film market," Johar said. "They are moving slowly now, but I feel exciting times are ahead for all of us."