Home > Movies > First Look

Will Smith meets Bollywood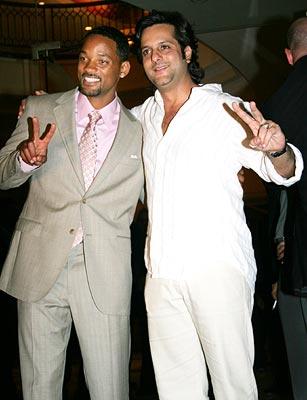 After a visit to Agra with his son to see the Taj Mahal on Tuesday, Hollywood superstar Will Smith spent the next day catching up with Bollywood personalities.
"Not with any other purpose but just to acquaint himself with the biggest movie industry in the world," a Sony spokesperson informed.
"There was no talk of any concrete movies. Just regular back and forth of views."
Will Smith wants Chicken Tikka and Ash!
Among the film personalities Smith was due to meet were directors Karan Johar, Vidhu Vinod Chopra, Subhash Ghai and Ashutosh Gowariker, Manmohan Shetty of Adlabs and UTV's Ronnie Screwvala.
Gowariker, however, missed his appointment with Smith. "I had to rush to Delhi for an important archeological appointment regarding my film Jodha-Akbar. I'd have loved to meet him. I believe he was keen to know about our film industry."
Johar spent a good hour with Smith. "It was a productive meeting. He is entertaining and well-informed. I was quite happy to see he was genuinely interested in our industry and in a give-and-take of ideas on cinema."
Johar will be with Smith again on Friday when they shoot an episode of the hit reality show Indian Idol.
On Wednesday night, Smith attended a party hosted by Fardeen Khan.
Text: Subhash K Jha | Photograph: Pradeep Bandekar


What do you think about the story?








Read what others have to say:





Number of User Comments: 2








Sub: will smith...

here recently i read that will smith had been visiting in india, i thought a very good time is going on with bollywood as many ...


Posted by kuldeep









Sub: This guy is KOOL

WOW!! Amazing Will smith is a kool person whit good personality that's amazing that hi is in INDIA I think he is coming here 2nd ...


Posted by prasoom






Disclaimer