Advertisement
February 22, 2006 18:37 IST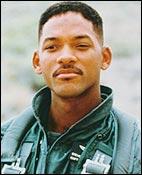 Hollywood star Will Smith [Images], who is in the country to launch a new movie channel, says there are two things he simply must do in India.

'Just recently, I got to know the number of films Bollywood makes a year -- a whopping 800. And each with its share of song, music, dance and drama. I am simply enticed to be part of it,' the Switch star was quoted by Contactmusic as saying. 

'I would do

anything that Aishwarya Rai [Images] will be part of. I love her so. I also want to taste the authentic Chicken Tikka Masala,' he added.

Besides launching the new channel Pix, Smith will appear on the hit reality show Indian Idol [Images].