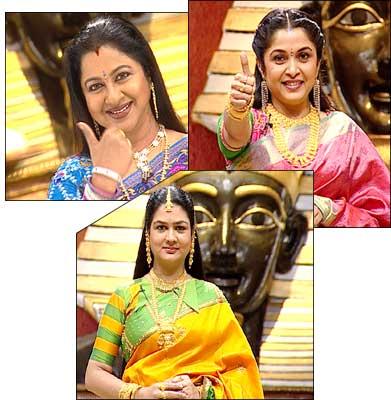 It all started with Radhika's Radaan Mediaworks starting a Tamil game-quiz show called Thanga Vettai, and hiring popular actress Ramya Krishnan [Images] (right) to host the show.
With gold coins as prizes, it won veiwers' hearts, despite being aired on Sun TV [Get Quote] when KBC 2 was on Vijay TV during the same time slot.
The success of Thanga Vettai in Tamil with Ramya as the anchor made Radhika (bottom) start the same show in Malayalam as Swarnamazha, with actress Urvashi (left) as the host. It became a huge success in Malayalam also.
Then came Thanga Vettai in Telugu, as Bangaram Meekosam on Gemini TV. This time, Radhika thought of herself as the ideal person to host the show, and it claims to be the number one Telugu television show.
Radaan Mediaworks is now eyeing the Kannada-speaking audience. But Radaan has not yet decided on the actress who will host the Kannada version of Thanga Vettai.