November 09, 2005 00:10 IST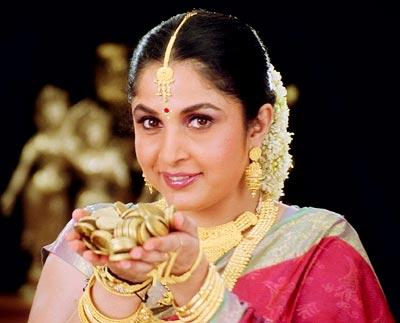 It has been happening all over India; artistes who fade away from the big screen surface on the small one. A few succeed, and most fade away.
The latest artist to make a splashy entry onto the small screen is the woman who sizzled in Tamil, Telugu, Malayalam and Kannada films, and Bollywood too.
She is Ramya Krishnan [Images].
It is, predictably, a game show, Thanga Vettai on Sun TV [Get Quote]. Thangam or gold is a weakness down South, and the show is about winning gold.
Thanga Vettai, that will start this month, is being produced by actress Radhikaa's Radaan Mediaworks. Radhikaa, in case you didn't know, is an extremely successful producer of Tamil television, a la Ekta Kapoor [Images] of the Hindi channels.
The show will have Ramya Krishnan asking viewers in a style nobody can copy: "I love challenges. How about you?"
The challenges are in the form of questions. Yes, Thanga Vettai is a quiz/game show where the general knowledge of the participants, as well as their flair for active games are tested.
The game will have two teams, each comprising of five members, spanning three generations. It is not necessary for the team to consist of members of the same family; they can be either friends or relatives. The only condition is that there should be members from three generations.
Radhikaa, the chairman of Radaan promises that on Saturdays and Sundays from 9 pm to 10 pm, it will rain gold on Sun TV.
Considering the love people have for gold, Thanga Vettai will be stiff competition for KBC 2 in Tamil on Vijay TV.
Text: Shobha Warrier