Home > Movies > First Look

Hottest scene: Mandakini's wet sari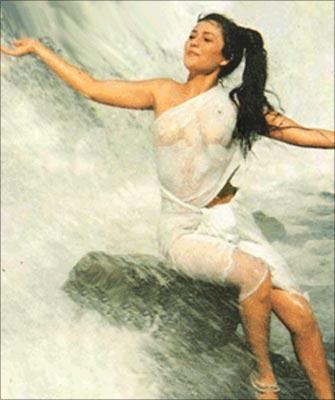 The year was 1985, and it marked Raj Kapoor's last film as director.

Ram Teri Ganga Maili is recalled these days only for this waterfall scene, featuring actress Mandakini in a white sari. The transparency was unprecedented, and audiences went wild.

Do you think this scene is among the hottest in Hindi films?

Tell us which scenes are the hottest ever filmed, and we will feature the popular choices here.

Don't miss Madhuri Dixit, Dimple Kapadia, Sharmila Tagore, Rani Mukerji, Mallika Sherawat and Neha Dhupia's hot scenes featured earlier!


What do you think about the story?








Read what others have to say:





Number of User Comments: 33








Sub: sexy madhagini

It is the sexy scene at that time.it is first experience to see the actress in that position.


Posted by anupam sharma









Sub: Mandakini

Mandakini was sex bomb at that time.


Posted by Gaurav Dwivedi









Sub: what about zeenat aman

what about zeenat aman in satyam shivam sundaram??? the mandir scean with the same white saree???


Posted by fariah









Sub: about the mandakinis hot scene

The movie is so beautiful because of only mandakinis hottest scene.


Posted by amol gaikwad









Sub: GET A LIFE!!!!

my god!!! dont tell me that u people didnt get anything better to put on ur web site.. this is one of the most absurd ...


Posted by rose






Disclaimer