Home > Movies > First Look

Today's hottest movie scene: Aradhana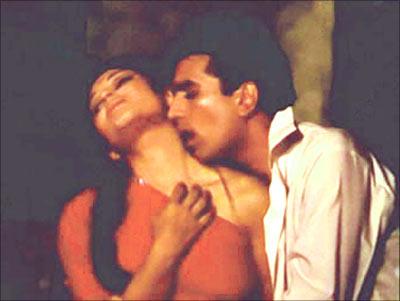 He was the loverboy without compare.
She was the demure girl with a bod to kill for.
Rajesh Khanna and Sharmila Tagore came together in 1969's Aradhana, and the sensuality between them felt so real. it virtually set the screen afire. 
Do you think this scene is among the hottest in Hindi films? Tell us which scenes are the hottest ever filmed, and we will feature the popular choices here.
Don't miss Madhuri Dixit, Dimple Kapadia, Mallika Sherawat and Neha Dhupia's hot scenes featured earlier!


What do you think about the story?








Read what others have to say:





Number of User Comments: 10








Sub: Hottest movie scene: Aradhana

I do agree that this is one of the hottest movie scene of Indian Film world. But the most significanct fact is that this scene ...


Posted by Jatin Ram









Sub: Hot scenes in Indian Movies

Did you forget Saira Banoo Changing clothes In Victoria No.203 or 302 with Ashok Kumar. I think it was also one of the boldest scenes ...


Posted by Ashish Kulkarni









Sub: Hot scenes

Two things cannot be eradicated from this world, prostitution & corruption. Everyone is against these but when its their turn they succumb to it. So ...


Posted by Saikat Mitra









Sub: Evergreen!!!

That's the hottest scene of 70's. Evergreen... Now a day u can more of nudity but those scene are gems. Erotic one... and for some ...


Posted by Kamal









Sub: Discuss more important topics

Its very sad to see a respectful site like rediff asking users for feedback on whether a scene is hot or not. There are more ...


Posted by Ach






Disclaimer