Home > Movies > Bollywood News

Mallika: God is from Haryana!

September 27, 2005 17:12 IST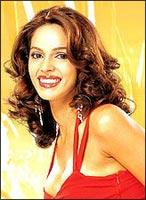 Mallika Sherawat is used to being in the spotlight.
Starting Friday, we've been showcasing the complete transcript of the actress' Hong Kong interview for the CNN show, Talk Asia, telecast in India on September 25. 
In the first part, the actress asked what's wrong with using her sex appeal. In the second part, carried on Monday, the Murder star spoke about life when lipstick was forbidden.
Now, as the chat transcript concludes, Mallika talks about being discovered, her desire to be an actress, and how she maintains her fab figure.
Over to the show's host Lorraine Hahn and Mallika:
LH: Welcome back to Talk Asia. Spending time with us is Mallika Sherawat, who is in Hong Kong for her new movie, The Myth. Mallika, let me ask you why you changed your name. I mean you were you born with the name Reema Lamba. What's wrong with that?
MS: Why did (1940s Hollywood actress) Barbara Stanwyck change her name? Her original name was Ruby Stevens, and (1950s actress) Rita Hayworth's (original) name was Margarita. I like the way Mallika sounds. I like the sound of it, and it means 'The Empress', and there were too many Reemas in the industry, and I wanted a name with a distinct identity. And Sherawat is my mother's name, and she was always a silent supporter, always stood by me, you know how mums are, so special. So that was a kind of tribute to her.
| | |
| --- | --- |
| | More on rediff.com! |
| | |
LH: So what kind of child were you?
MS: Very naughty, very naughty. I have marks all over my body, I was so naughty. (LH: Tomboy?) Yes, maybe, always up to tricks. I was always the gang leader, up to tricks, not interested in studies.
LH: So, when did you want to an actress? Were you kind of 'posey' even when you were young?
MS: Gosh, I was! I was too filmi. You know, it's a Bollywood word, 'filmi.' I'd sit in front of the mirror and ape all those actresses and all their moves. And I'm not going to sit here and be dishonest and say, 'Oh, it just happened, I just got a role by chance, I never planned it.' I always wanted to be an actress, since I can remember, always.
LH: Did you have any formal training at all?
MS: Not really, no formal training, but after I got my first break, I took it upon myself to educate myself, so I started reading a lot of theatre books, like (Russian theatre great, Constantin) Stanislavsky, and a lot of autobiographies. I'd watch a lot of movies, good cinema -- that's constant education. I'd keep on updating myself with new trends, with everything.
LH: How were you discovered?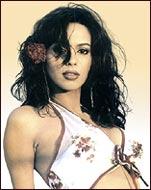 MS: I got a commercial with Shah Rukh Khan for (Hyundai Motors) Santro, and, of course, when you do a commercial with a superstar, the whole country sits up and takes notice. Then Govind Menon, the director of Khwahish, was looking for a new face to launch, and that commercial only guaranteed an audition. So I went to the audition and I'm there and there are 500 girls before me -- gorgeous, stunning, talented, everything. I am just sitting there, and that was a reality check. And I auditioned a week later, my turn came a week later, it was so tough. I was a bundle of nerves, I was so nervous and I knew I'm not going to get it, but then I think god is from Haryana! I'm sure about that. I got a call, that I'm on!
LH: Was there a turning point when you knew exactly what you wanted out of life and you decided, and said this is what I want to do?
MS: When I did Khwahish, my debut. The role was so strong and I think for the first time, the portrayal of this urban, independent woman who takes life in her own hands and who makes all the decisions on her own. That kind of a role gave me strength when I played that character, that, 'yes, this is it!' I am going to go about my life my own way. 
LH: I know you're flying here and there, you're promoting the movie, etc. What do you do when you have free time?
MS: I like to exercise. I love to gym, in fact, that's my addiction. (LH: And that's probably how you maintain your figure right?) Everybody has a figure! You have a great figure! I love to work out. And I love to spend time with my brother. (LH: Does he travel with you?) In fact, he is with me on this trip. (LH: So he's like your manager-cum-mentor-cum-pillar of strength?) He's everything. (LH: You're very lucky.)
LH: Now you've been married before, I won't get into all of that, but what I really wanted to ask you was would marriage or children be in the cards, maybe at a later date, when you're done with acting?
MS: Right now, I'm like a horse with blinkers on, just focused on the goddamned thing -- scripts. Good scripts and good cinema. Nothing else matters right now. I do not even want to spend five minutes of my time with somebody who will not help me grow and learn more.
LH: What is the hardest part of this business?
MS: To stay sane, because I'm going to be very honest about it, it gets very heady sometimes. It really does, when you go to the Cannes film festival, when you walk on the red carpet, and there is the paparazzi there shouting your name, and people saying 'I love you' and Time magazine writing about you and all. I'm a human being after all, it does get heady sometimes, but then I have my close friends and my brother who pull me back down to mother earth and say, its okay now. So, I'm under no illusion, that nothing lasts forever, you know. It's there today, it might not be tomorrow.
LH: You know there are many articles written about you, describing you, etc, but how would you describe yourself?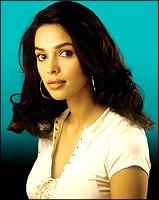 MS: I'm a very simple, boring middle-class girl with very simple basic needs. That's the way it is, you know. I don't party, I don't like to smoke, I don't like to drink alcohol, no drugs, nothing. In fact, my directors tell me that I'm boring; I lead a very robotic life. I sleep by 10 o'clock, I wake up by 6 o'clock, I go into my exercise routine, and that's about it. And then one set to the other, to my gym. (LH: Very healthy living.) That's very healthy, very disciplined, very robotic, and boring. 
LH: So what's next for you, Mallika? New movies?
MS: Yes, yes, lots of movies. I'm doing one with Subhash Ghai, opposite Akshay Khanna (Shaadi Se Pehle). I'm doing one with Rahul Bose, and with a lot of other directors as well, so great things are happening. I would say that this is the second phase of my career that is just started, because Myth is going to be my fifth release. The first phase was getting attention so that I can put myself in a position where I can choose to do the kind of roles I want to do. Having done so, now (it's down to) sourcing good scripts, working with directors, doing good movies.
LH: Mallika, thank you very very much. Good luck to you and to your movies.
Courtsey: CNN


What do you think about the story?








Read what others have to say:





Number of User Comments: 12








Sub: hai

mallika looks really sexy i like her very much. i was very much inspired with her dress.......... my friend sadiq too admires her we both ...


Posted by savitha









Sub: Nonsense

Mallika is nonsense. Looks like rediff is gradually entering in her category by publishing her interview.


Posted by Kirit Raja









Sub: genaral

hi , mallika how r u. u r looking so sexy now a day, and u r acting i like very much.


Posted by prasad









Sub: shes hot

She has come to the field with her ability to expose & willingness to do bold scenes.But getting a chance to work with the kinds ...


Posted by anup menon









Sub: lovers

i love all overs indians


Posted by manjunath






Disclaimer