Advertisement
January 28, 2005 12:43 IST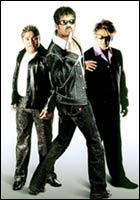 Dear Mahesh Manjrekar,

I watched your film Padmashree Laloo Prasad Yadav on Wednesday and felt I had to write you this letter.

There are two reasons why filmmakers make films -- it could be their passion to make films, or to make money. Which of these reasons was yours to make Padmashree? It doesn't seem to be your passion, as you have made good films like Vaastav and Astitva earlier. And I wonder how you may make money out of this, as the entire theatre was empty at the film's premiere in Dubai, as part of GIFA (Global Indian Film Awards), except for a handful of journalists. That, even though the film's cast and Salman Khan [Images] were expected to make appearances in the cinema halls!

Padmashree is an insult to cinema. You made a talented actor like Sharat Saxena and even Masumeh Makhija (who was quite good in Maqbool) make complete fools of themselves. I will not include the rest of the cast like Suniel Shetty [Images], Johnny Lever, Kim Sharma [Images] and Anupama Verma [Images] in the talented category because they are really non-actors (Johnny Lever may have been good at one time, but he seems to have lost his touch).


| | |
| --- | --- |
| | More on rediff.com ! |
| | |
The performances were terrible. Okay, so the film is a comedy, but it did not evoke any laughs. You tried to force in comedy even when it was not necessary. When Sharat Saxena sees his mistress in bed with his Casanova employee Laloo (Suniel Shetty), he did not show anger. Instead, he mouths 'funny' dialogues.

And just because Shah Rukh Khan [Images] and Saif Ali Khan's [Images] Kantabai act worked in Kal Ho Naa Ho does not mean we should be subjected to Suniel Shetty blowing kisses to Johnny Lever, and looking positively vulgar.

Kim Sharma and Anupama Verma looked like semi-nude bimbettes, and the film will surely not do anything for their careers. Gulshan Grover [Images] does his usual 'bad boy' act, and Suniel Shetty cannot carry a movie on his shoulders.

Masumeh seemed to be the central character in the film, as she featured in almost all the scenes. Her only requirement, in this extensive role, was to seduce one and all. I wish I could say she did well.
You don't even have a novel story here. Padmashree (Masumeh), Laloo (Suniel Shetty), Prasad (you), Yadav (Johnny Lever) and Johnny (Gulshan Grover) are out to get some diamonds owned by Padmashree's late father. It could have been a cool thriller, or a comedy of errors, but it turned out to be a pathetic waste of time. Too many characters, much, much too loud and very bad dialogues.
So what were you thinking when you made the film? Is this really your idea of entertainment? Or do you underestimate the B and C centres (for whom this film seemed to be made for) so much?
And the way you ended the film. When politician Laloo Prasad Yadav was addressing the four lead characters, Suniel Shetty was missing! You made someone stand in for him, and he covered his face the entire time. How tacky!
It seems to be a trend. Your previous films, Rakth, Hathyar, Pitaah and Ehsaas may have starred popular actors but the audience hated them.
Perhaps it's time you take a break from the camera and rethink your style of entertainment.
From a movie buff,

Ronjita Kulkarni