Advertisement
January 13, 2005 18:16 IST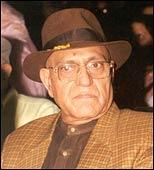 The mortal remains of veteran Bollywood actor Amrish Puri were today consigned to flames at the Shivaji Park crematorium in Mumbai. Prominent members of the film industry paid their last respects to the actor who passed away on January 12, after a brain haemmorhage.
The body was brought from Hinduja Hospital to his suburban residence earlier this morning. The flower-bedecked body was kept at his Juhu residence for members of the film industry, and his fans to pay their last respects.
The actor's son Rajiv Puri performed the last rites. Various members of the film industry turned up to offer their tribute, like Shah Rukh Khan [Images], Shammi Kapoor, Shakti Kapoor, Kajol [Images], Hema Malini [Images], Feroz Khan, A K Hangal and Rakesh Roshan.
From the world of politics, Maharashtra state PWD minister Chhagan Bhujbal, former Jammu and Kashmir [Images] chief ministerFarooq Abdullah and former state minister Kripashankar Singh were among those who offered floral tributes to the screen legend.
ALSO SEE: Goodbye, Purisaab