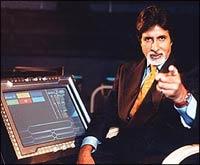 Despite his ill health, Bollywood producers are sure Amitabh Bachchan will recover soon and finish all pending projects. 
After the doctors who operated on him said it would take at least a month for Bachchan to recover, producers and directors are busy adjusting their dates for future shooting schedules.
Speaking to rediff.com, Ravi Chopra, director and producer of Baabul, said, "At present, our major concern is his health. I feel he should first recover completely." When asked to comment on whether ill health would lead to Bachchan not completing his project, Chopra said, "Absolutely not. I am sure he will do my film. Everyone falls ill and recovers. I am eagerly waiting to see him back on sets after his recovery."
Chopra, who gave Baghban to Bachchan two years ago, started work on Baabul soon after Baghban became a hit. Baabul stars Hema Malini, Salman Khan, John Abraham and Rani Mukerji. "At present, 45 per cent of the film is complete," said Chopra. "Shooting was to start on December 9, but we are cancelling that shoot."
Apart from his show KBC 2 on Star TV, at present Bachchan has 11 films on hand. His first release is Ek Ajnabee, which will release on December 9. Then comes Family, which was to release on December 23, but is awaiting some dubbing shots from Bachchan. Other films for which he is booked in 2006 include Struggler, Eklavya, Kabhi Alvida Na Kehna, Baabul, God Tussi Great Ho, Darna Zaroori Hai, Happy New Year, Sholay and Baiju Aur Tansen.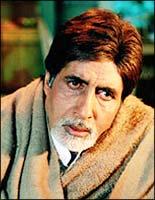 There are also 17 commercials he does round the year as brand ambassador for different companies. "You can say that at least Rs 100 crore is at stake because of Bachchan's illness," says film trade analyst, Vinod Mirani.
The first project likely to be affected is Kaun Banega Crorepati 2, as shooting set for December 1, 2 and 5 stands to be cancelled. "We have a bank of episodes ready till December 23 and there is no problem. But after that, we will have to think of a different strategy," said a spokesperson for Star TV.
Rumi Jaffery, director of God Tussi Great Ho, was also confident that Bachchan would complete his film. "I have nothing to worry about. He has given me 15 days in February and I am sure he will be perfectly alright by then." Salman Khan, Priyanka Chopra and Sohail Khan are his co-stars, and the film is expected to be complete by March.
Wish Amitabh: SMS AB and your message to 7333