Advertisement
December 01, 2005 16:31 IST
Last Updated: December 02, 2005 01:41 IST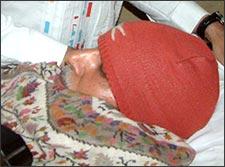 The condition of Bollywood legend Amitabh Bachchan [Images], who underwent surgery for an intestinal problem at the Lilavati hospital in Bandra, northwest Mumbai, has improved.
Bachchan is responding to treatment, Samajwadi Party leader and the actor's close friend Amar Singh told the media at the hospital.
Singh, who visited Bachchan at the hospital, said the actor was being treated in the Intensive Care Unit but his vital parameters were normal.
Amitabh undergoes surgery, stable
"Mr Bachchan has thanked the media and the people at large for showing concern for his health and extending their wishes for a speedy recovery," Singh added.
''Mr Bachchan is now recovering. He is responding to treatment and his condition is stable,'' a hospital spokesperson said.
Asked when Bachchan would be moved out of the ICU and discharged, she said, ''It will be decided by the doctors tomorrow.''
Sources said the actor will stay in the hospital for at least another week.
Bachchan was successfully operated upon for perforations to the small intestine, known as diverticulitis in medical parlance.
During surgery, a sample of tissue was taken from the small intestine and sent for tests to rule out the possibility of anything more serious than diverticulitis, hospital sources said.
Visitors at the hospital included Shiv Sena Executive President Uddhav Thackeray and his wife, businessman Anil Ambani, Sahara Group chief Subrata Roy, actresses Jayapradha and Kiron Kher, and filmmakers Madhur Bhandarkar, Ram Gopal Varma and Tinnu Anand.
People thronging the area near the Lilavati hospital reminded one of the scene in July-August 1982 outside the Breach Candy hospital in Mumbai where the actor was treated for grievious injuries he suffered during the shooting of Manmohan Desai's Coolie in Bangalore.


Jaya Bachchan spent the night in the ICU, while son Abhishek, daughter Shweta Nanda and her husband Rahul Nanda left the hospital at around 1:30 am.
Amitabh's younger brother Ajitabh also visited the hospital last night.
Wish Amitabh: SMS AB and your message to 7333