Home > Movies > First Look

Spider-Man finds a new home!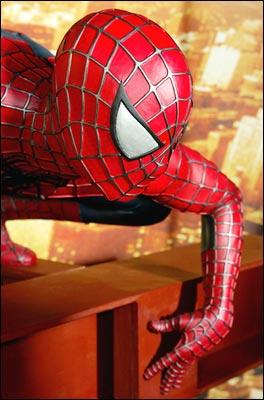 Goodbye Aunt May!
Spider-Man has shifted home!
He now lives at Madame Tussauds!
An interactive Spider-Man was unveiled at London's Madame Tussauds on Thursday, July 15.
Visitors have to ascend a web in order to photograph the superhero for the Daily Bugle, the newspaper on which his alter-ego Peter Parker works.
Spider-Man 2 had a spectacular opening on June 30 in the US.
The film, starring Tobey Maguire and Kirsten Dunst and directed by Sam Raimi, will release in India next week, on July 23.
Photograph: Getty Images
Don't Miss!
Showcasing Spider-Man 2



What do you think about the story?








Read what others have to say:





Number of User Comments: 6








Sub: Spiderman Releases

u Know Spiderman has been released on 23rd on every cinema halls


Posted by Aditya Shankar









Sub: Who Cares!!!

Your inclination towards Western Movies will never change! Grow Up! Who cares, Whether Spider man is unvieled at madame-tussauds or not, who gives a damn! ...


Posted by Ravi









Sub: Spiderman releases on July 23 not Aug 23 !

Please correct the mistake. Regards, Shankar


Posted by Shankar Anand









Sub: Date of release

The date of release is wrongly mentioned in the report. It's not August 23, but July 23.


Posted by Bharani









Sub: August 23 - Next week ???

"The film, starring Tobey Maguire and Kirsten Dunst and directed by Sam Raimi, will release in India next week, on August 23......" August 23 - ...


Posted by vijay






Disclaimer