Chupke Se could have been included in the category of films of Hrishikesh Mukherjee and Basu Chatterjee.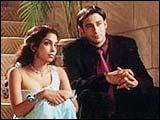 A spoof on high-society endeavours, it lacks the natural acting of Amol Palekar, Farooque Shaikh, Deepti Naval and, of course, the king of such comedies, Utpal Dutt.
Right from the first scene, where our heroine breaks into a song as soon as she is introduced, we start getting irritated by the animated hand and eye movements of Masumi Makhija.
I wonder if Jaya Bhaduri would have needed something like this in
Guddi.
This girl, Megha, dreams big, lies a lot, escapes home the Tarzan way to attend nightclubs. One such night, she poses as fictional character Sarika; bumps into hero Varun (Zulfi Syed); gets spotted by fashion Diva Almira (Rati Agnihotri) and Riz (Raman Lamba).
| | |
| --- | --- |
| | More o rediff.com! |
| | |
And the film starts gaining some pace.
We come to know that Megha's father Timgire (Dilip Prabhavalkar) is bothering Almira. Almira's husband Tiny (Tinu Anand) seeks help from Qasim Qayamat (Om Puri), who mouths C-grade shayari claiming they are Ghalib's; he also craves publicity.
Post-interval, everyone decides to evoke laughter the animated way. A red-rose romantic song also comes from nowhere. Almira goes crazy, Timgire acts funny, Tiny tries to pop up somewhere in the background and Qasim's shayari goes from bad to worse.
Megha aka Sarika rolls her eyes when she is happy and rolls them some more when she is sad and shakes them amazingly when she is angry.
And all's well that ends well at the final Miss Indian beauty pageant. Everyone, except the bad guys and the audience, is happy.
The problem lies in the screenplay and the forced web of events. The leading lady neither looks middle-class nor a beauty queen. So the transformation from duckling to swan hardly registers.
Zulfi Syed and Raman Lamba are so wooden that the furniture in the film could get an inferiority complex.
Rati Agnihotri and Dilip Prabhavalkar are so loud that you really feel sorry for these good actors.
The only saving grace is Om Puri who tries to enthuse life.
Director Shona Urvashi's effort is, at the most, earnest. But we can still expect good films from her in the future.
S Manasvi is a final year student at the Film And Television Institute of India, Pune