Home > Movies > Reviews > Readers' review

Boys tells it like it is!

Guru Subramaniam | September 16, 2003 11:57 IST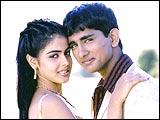 He has completed half-a-dozen films with Boys. The film is director Shankar's celebration of the onset of adolescence.
Here is a movie with no pretensions, no intended puns and no nonsense.
| | |
| --- | --- |
| | More on Boys on rediff.com |
| | |
Five boys and a girl find their hidden talents thanks to unforeseen situations and their careers take an elevator up. The thread uniting them is friendship and love. What begins as a small-time eve-teasing stint ends up in a relationship that displays a spectrum of emotions, debacles, and reunions.

Siddharth as the quasi-hero leaves his mark on us. Harini, the heroine, is very natural. She is not the typical heroine running around lavender fields. She doesn't hesitate to show the finger when pushed.

The other boys have done their best as well. The innocent-looking Kumar's performance is flamboyant. Vivek as Mangalam Sir is the typical drunkard found at every other bar in Chennai. He has downplayed well his comic sense to match his character.

The surprise is Senthil's cameo. In him, you find the Shankar punch: stating a message -- in this case, information is wealth -- through an unassuming character.

A R Rahman has helmed the scoring of what is certainly the best of Tamil music this year. Of note is Vaali's lyrics for 'Secret of success'.

Writer Sujatha's down-to-earth dialogues are the core of the movie. He has always been at ease with the Tamil-English lingo of Chennai. Save for some dialogues that are explicit, Sujatha proves he is a sharp observer. For example, the wineshop scene where the boys meet Mangalam Sir.

A noteworthy scene is when Harini tells her father, who had ditched his lover for wealth, "You kept my name Harini because it was your ex-girlfriend's name. You are still thinking of her. I don't want to repeat what you did. I cannot ditch my boyfriend [Munna] and name my son Munna."

One drawback is the loosely written screenplay. The first half of the movie is devoted to college life, though all of it is depicted with honesty, from girls to cigarettes to beers to porno movies to 'first experiences'.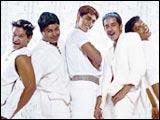 Boys also suffers from unwanted graphics. Shankar has reduced the quality of songs trying his hand at 3D effects. Take the songs, 'Boom Boom' and 'Ale ale'. How could Shankar afford to include such cheap animation in the picturesque Tasmanian gardens?
Cinematographer Ravi K Chandran does not match his powerful work in Kannathil Muthamitaal.
Shankar's overconfidence in selling situations to the audience has failed this time. Many scenes, including the climax, look ordinary without any build-up sequences. If the makers spent Rs 22 crore [approximately US $4.8 million], it is a lavish waste of money.
Click here for More Reviews


What do you think about the story?








Read what others have to say:





Number of User Comments: 1








Sub: Sorry

Sorry dear reviewer, I just could not agree that this movie is 'no-nonsense'. Shankar has taken care that the movie does not meet logic at ...


Posted by Siddarth






Disclaimer