September 8, 2003


Versatile.

The word that effectively sums up Asha Bhosle's career. Who else can boast of having worked as extensively with trendsetting composers across three generations, from O P Nayyar's breezy, foot-tapping ditties of the 1950s to R D Burman's pop blitzkrieg in the 1970s to A R Rahman's sensational contemporary rhythms?

Her distinctiveness arises from her enormous appetite for experimentation. She sang one of Hindi cinema's first rock 'n roll numbers, Eena meena deeka way back in the 1950s. She has recorded memorable ghazals with the likes of Ghulam Ali and Jagjit Singh, pop songs with Biddu and innumerable disco numbers with Bappi Lahiri.

In the mid-1980s, she went to London and sang with Boy George and Stephen Lauscombe. In 1997, she sang a love song with Code Red, a boy band. Then, she gave Indipop a boost with the hit album Jaanam Samjha Karo even as she was busy preparing to render 500-year-old classical compositions in tandem with sarod maestro Ustad Ali Akbar Khan!

Her repertoire runs to over 20,000 songs across 14 languages over 55 glorious years. We try to pick composers who brought out the best in Asha Bhosle:

Khayyam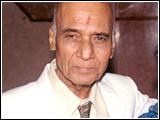 Although other composers worked with her far more extensively than Khayyam, none has had as profound an impact on her career as he did on account of a single film, Umrao Jaan. In the Muzaffar Ali-directed musical, she immortalised four ghazals: Dil cheez kya hai, In aankhon ki masti ke, Ye kya jagah hai and Justju jiski thi. It won her the first National Award of her career.
Says Khayyam, "Asha and I have worked together right from my first film, Biwi, in 1948. I had asked Asha to sing Mere man ke aangan chand chamka for then superstar Mumtaz Shanti. She sang it beautifully. Then, in Footpath, I made her sing all the songs for Meena Kumari. There was a cabaret number too. Footpath did very well.
"Asha was very hard working. She would rehearse for hours. She understood my style; I understood her range. She didn't get to sing for heroines when she began. She faced a lot of trouble. She made a name for herself in fast numbers.
"The ghazals she sang for Umrao Jaan became a milestone in her career. I changed her tone and she was quite surprised she could sing like that. The songs proved her versatility and established her talent.
"She is a fine human being, very blunt and says things to your face. I like that. It helps maintain relationships and clear the air. Her heart is clean. Her musical antecedents are awesome: natya sangeet and shastriya sangeet. Our non-film album, Asha Aur Khayyam, was composed by me and sung by her. She always does exactly what the composer wants her to. She can sing in any language."
O P Nayyar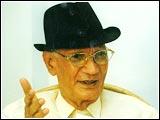 Nayyarsaab's association with her is part of film lore. When she was considered second choice by most composers, he recognised her potential and, in a sense, moulded her career by giving her a distinctive style.
Starting with Naya Daur and Tumsa Nahin Dekha in 1957, the duo created a treasure trove of lively melodies. Asha's delicately sensuous rendition of Aaiye meherbaan (Howrah Bridge), Yeh hai reshmi zulfon ka (Mere Sanam) and Aao huzur tumko (Kismat) was matched only by her exuberance in Nayyar's trademark, upbeat compositions in duets like Maang ke saath tumhara (Naya Daur), Main pyaar ka rahi hoon (Ek Musafir Ek Haseena), Sar par topi laal haath mein (Tumsa Nahin Dekha) and Ishaaron ishaaron mein dil lene wale (Kashmir Ki Kali).
The crowning glory of their association was Chain se hum ko kabhi (Praan Jaye Par Vachan Na Jaye), Nayyarsaab's last hit.
S D Burman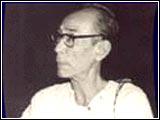 She sang most of her songs with S D Burman in the late 1950s and early 1960s when he had a rift with Lata Mangeshkar and refused to record with her. Within that short span, SD and Asha worked together on several soft romantic numbers like Kali ghata chhaye (Sujata), Koi aaya dhadkan kehti hai (Lajwanti), Achchaji main haari (Kaala Pani), Haal kaisa hai janaab ka (Chalti Ka Naam Gaadi) and Chhod do aanchal zamana kya kahega (Nau Do Gyarah).
For Bimal Roy's Bandini, Asha sang Ab ke baras bhej bhaiya ko babul with such feeling that she apparently broke down after recording the song. A few years later came Jewel Thief's seductive Raat akeli hai, among her last notable collaborations with SD, apart from the famous Aradhana duet with Mohammed Rafi, Gunguna rahe hain bhanwar.
Ravi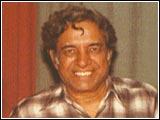 Ravi Shankar Sharma shot to fame with scores for films like Mehendi, Ghar Sansar, Dilli Ka Thug and Chaudvin Ka Chand. He worked closely with Asha in many films. Says he, "I started my career as [singer-music director] Hemant Kumar's assistant. Lataji and Ashaji would often come to the studio to sing.
"My first film was Vachhan (1955), directed by Devendra Goel. Ashaji sang for it. One of her songs, Chandamama door ke became very popular. My mother used to sing this song to put me to sleep. I adapted the lyrics and composed it. Ashaji won her first award from my song in Grahasti.
"We had a great relationship. She loved my wife's pickles. Ours was the only house she would come to, to eat pickles. Our families used to drive to Darjeeling and Kashmir."
Usha Khanna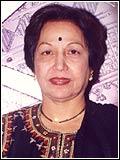 Usha Khanna, who scored music for the Asha Parekh-Shammi Kapoor film, Dil Deke Dekho (1959), says: "One utilises her voice because it is fabulous. She enhances the scenes with her voice. I have received a lot of love from Ashaji. She calls me her daughter. We have had an affectionate relationship.
"She would get angry with me sometimes, but as soon as she reached home, she would call up and apologise, 'Usha, I was irritated but not angry.' Then, she would laugh and add, 'See, I have to take care of my daughter, so I'm calling you.'
"Once she was recording for me but I wasn't quite getting what I had in mind. She was watching me from the small glass recording room and my face would fall when she reached this particular sequence. I didn't say anything, but she realised it. She asked for the recording to be stopped.
"She asked me if she was singing properly. I replied, 'Didi you are singing well.' But she insisted, saying, 'You are my guru when I sing your compositions. Tell me what you want.' I told her and she said, 'Oh yes, I was singing differently!'
"Once I was wearing a kurta-pyjama. Even she wanted to wear one. The next time before recording, she asked me what I would be wearing. I said churidar-kurta. She wore one too for the recording!
"I love Hai tabassum tera from my film Nishaan (1965). Her cabaret numbers are just as good as her classical numbers. Today, though we are busy in our respective lives, we still keep in touch over the phone."
R D Burman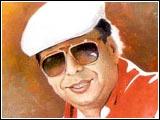 The maverick musical genius wouldn't be immortal without Asha's willingness to let her voice be manoeuvred into uncharted territories. It would be fair to say that Pancham conducted musical experiments on Asha's vocal chords.
Throughout the late 1960s and 1970s, the RD-Asha team held sway on the world of Hindi film music with their youthful, Westernised sounds and sent an entire generation into raptures. So much so that the remix wave that has the recording industry in its vice-grip in recent years is largely propelled by RD's compositions rendered by Asha.
Rewind to the fabulous Aaja aaja main hun pyaar tera (Teesri Manzil), Piya tu ab to aaja (Caravan), Dum maaro dum (Hare Rama Hare Krishna), Chura liya hai tumne jo (Yaadon Ki Baaraat) and Jaane jaa dhoondhta phir raha (Jawani Diwani), to soak in the irrepressible mood of their distinctive melodies.
Or catch Asha's soulful rendition of Mera kuch saaman and Khaali haath shaam aayi hai from Ijaazat to get a measure of the sheer range of musical expression the RD-Asha combination managed to map.
Sardar Malik

Anu Malik's dad has composed such great tunes like Haan deewana hoo mein in Saraanga and Mujhe tumse mohabbat in Bachpan for her. Sardar Malik reminisces about the good old days. "I first met her after her first son was born. We had gone to her house.
"I was going through a bad time in my career and had started taking these Nag Panchami kind of films. But she sang even those with great fervour. I love her songs like Chanda se pyare, zulm bhi karte hain aur kehte hain fariyaad na kar. She sang all my songs.
"Asha has known and respected me even when I had no work.
"She once told me that she only got light numbers, no serious ones. I was doing Thokar and asked her to sing all the songs. The ghazal, Ai ghum-e-dil kya karoon was sung by Talat Mehmood and the second version was to be sung by Asha. She sang it so beautifully that Talat claimed that she matched the pathos in his version.
"Recently, I had gone for [son and composer] Daboo's recording. She was there. When Daboo came to meet me, she asked him if he knew who I was. He was surprised and she said, 'He is my best friend!'
"She has not learnt the word 'fear.' She stood her ground with the most outstanding singers and proved herself to be the best each time, whether here or abroad."
Pyarelal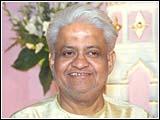 Laxmikant-Pyarelal made great music together in films like Dosti, Bobby, Amar Akbar Anthony, Karz, Mr India, Tezaab and many, many more films. After Laxmikant passed away in 1998, Pyarelal cut down on work considerably.
"I cannot praise Asha Bhosle," he says. "Words are inadequate. People like her are a gift to the nation. I cannot choose her best songs, all of them are outstanding. But better than that is her cheerfulness and commitment. I love her songs from Umrao Jaan and all the songs she sang for R D Burman and O P Nayyar. The way she sings is her contribution to the industry.
"I have heard she is an outstanding cook though I have not had the opportunity to taste her food. I know she loves to feed people.
"Eighty-five per cent of my songs were sung by her and all of them are popular. There was Aage bhi jaane na tu in Waqt, Mujhe gale se laga lo in Aaj Aur Kal, Yeh raatein yeh mausam and Cat mane billi in Dilli Ka Thug.
"She was to sing for B R Chopra's Nikaah too but they wanted the heroine to sing. So Salma Agha was roped in. But the songs were rehearsed by Ashaji. When my son Ajay was making his films (Khamosh Nigahen and Mera Suhag), she refused to charge a fee for singing for his films."
A R Rahman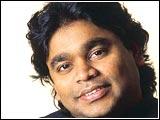 The shy genius from Chennai met the ageless diva of Mumbai and electrifying music was made.
Picture the 60-plus Asha singing Rangeela re or, even more astonishing, Tanha tanha. The inherent sensuality in her voice highlighted Urmila Matondkar's newfound sex-symbol image.
While Rangeela was the high point of the Rahman-Asha association, they have notched up many other hits including Kahin aag lage (Taal) and Radha kaise na jale (Lagaan).
Text: Lata Khubchandani, Deepa Gumaste
Design: Uday Kuckian