Home > Movies > Message Board

September 05, 2003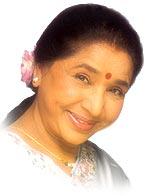 September 8 is a special day.
One of India's most beloved singers, Asha Bhosle, turns 70.
The richness and versatility of her voice and her tendency to personalise songs with that exclusive Asha touch are nothing short of extraordinary.
For years, the phenomenal singer has showered music lovers with inspiring melodies.
Here's your chance to reciprocate by wishing Asha 'Happy 70' with one of her own songs! Choose it carefully, and well! We'd love to hear from you!


What do you think about the story?








Read what others have to say:





Number of User Comments: 107








Sub: Song immortal of respected Asha didi

I dedicate the Bengali Song (Music by Salil Chowdhury) "MONERO NAAM MADHUMOTI" to my respected Asha didi.


Posted by rathin datta









Sub: Ashirwad

Respected Ashaji Please bless me so that I can resonate your songs in my electric steel guiar. With personal regards Rathin


Posted by Rathin Datta









Sub: Wish Asha with a Song

Chura liya hein thumne... film: Yadon Ki Bharat I dedicate this song to Ashaji.


Posted by Sasidharan









Sub: Asha ji

Hello, I am with very regret today on getting the news that ashaji could not get the grammy award. I started asking to every one ...


Posted by PRASHANT SAMAL









Sub: many happy returns

Dear Ashaji, I wish you a long life of happiness and good health .I love all your songs from the time I was 5 yrs ...


Posted by asha






Disclaimer