Home > Movies > Reviews

Anil's cleverly packaged one-man show

Deepa Gumaste | September 05, 2003 18:05 IST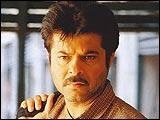 How can a filmmaker build a suspense thriller brilliantly and then squander it away on a tame exposition?
Perhaps Sudhir Mishra, director of such gripping films as Dharavi, Main Zinda Hoon and Is Raat Ki Subah Nahin, can tell us.
| | |
| --- | --- |
| | Write your own review! |
| | |
Calcutta Mail, Mishra's first big-budget outing, displays a sense of urgency from the moment a harried-looking man (Anil Kapoor) gets off at Kolkata's Howrah station. He is obviously preoccupied. Soon, we find this visitor to the city of joy is called Avinash.
He is in the city to find a man called Lakhan Yadav (Sayaji Shinde).
The pieces of the jigsaw puzzle about Avinash's reasons for coming to Kolkata to hunt for Yadav are meticulously scattered across an engrossing first hour.
| | |
| --- | --- |
| | More on rediff.com! |
| | |
Shots of Avinash hopping on and off buses, trams and the underground metro rail, top angle shots of bustling streets, beautiful visuals of the Howrah bridge, chaotic sounds of the city, all add to the atmosphere of urgency. Snappy editing and quick-paced action (including a shootout in a shady bar), help take the tension to a feverish pitch. 
Interspersed with the frantic chases are moments of relief provided by Avinash's interaction with Bulbul (Rani Mukerji), with whom he is forced to share a room in a bustling basti.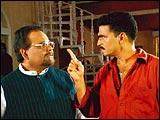 But the first signs of trouble in the tight screenplay surface when Bulbul breaks into the first unnecessary song.
A few minutes later, there is a second inexplicable song and dance routine, this time in Switzerland.
By the time Avinash and Yadav come face to face, a lot of blood has spilt on the streets of Kolkata. As the puzzle starts falling into place, events take more and more implausible turns.
There is a virtual bloodbath in the second half with absolutely no sign of any authority trying to keep violence in check.
Calcutta Mail is apparently inspired by the Telugu film, Choodalani Vundi, starring Chiranjeevi and Anjala Zhaveri. There are also some shades of the Mel Gibson starrer Ransom in the second half.
Whatever its antecedents, this is just another cleverly packaged one-man show by Anil Kapoor. The entire story is designed to suit his energetic style of acting. He infuses the drama with tremendous anxiety, particularly in the first half, with his edgy body language.
Sayaji Shinde's distinctly Maharashtrian accent does not make him a convincing Bihari. Also, his character is loosely sketched and too stereotypical to evoke much menace.
Rani Mukerji too doesn't have a well-written part, but her bubbly personality sees her through.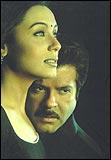 The rest of the supporting cast, including Saurabh Shukla (his Bengali accent is inconsistent), Ganesh Yadav and Shivaji Satam, don't deviate much from their past work. Satish Kaushik plays a bad man, perhaps for the first time in his career, but he is largely ineffective.
Manisha Koirala puts in a special appearance, but doesn't have much scope for histrionics.
Despite its convoluted second half, Calcutta Mail makes an impact because of Kapoor's performance and the effective use of the city of Kolkata as a backdrop for some genuinely gripping chase sequences.
CREDITS
Cast: Anil Kapoor, Manisha Koirala, Rani Mukerji
Director: Sudhir Mishra
Producer: Ashwini Dutt
Music: Anand Raaj Anand
Lyrics: Javed Akhtar
Want to see this movie? Check out Rediff Movie Tickets!


What do you think about the story?








Read what others have to say:





Number of User Comments: 8








Sub: Trailors fool you!

Himanshu and Rahul Nanda have made good publicity designs but then that's it. The film fails to impress and once actor cannot take the burden ...


Posted by Kanu









Sub: I visited Hell !

When I came out of the hall it was like coming to Heaven, because for the past three hours I had gone through Hell. Anil, ...


Posted by Kamal Khan









Sub: Anil Kapoor please RETIRE.

AK please try to do something new, or else please stop acting. I was a big fan of u and I request you not to ...


Posted by LezZLIE









Sub: Calcutta Mail at Kolkata

I was passing by a cinema hall in Kolkata today morning at 10.30 where Calcutta Mail was released yesterday. I was astonished to see that ...


Posted by bOObai









Sub: rejected at Calcutta itself.

I was amazed to see the crowd in the first show at a cinema hall in Kolkata. They were surely countable by fingers. Calcutta Mail ...


Posted by Vivek






Disclaimer