Home > Movies > Reviews

You can't fool the audience!

Shobha Warrier | September 04, 2003 18:46 IST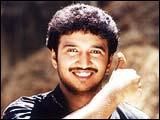 How could a family involved with films for several decades let the grandson of the late Chevalier Sivaji Ganesan debut in a film like Success?
Dushyant, Sivaji Ganesan's grandson, was reluctant to enter the film industry. Once he agreed to act, he was first asked to change his name to Junior Sivaji, thus creating an identity crisis. Then, his film was called Success, the first word uttered by Sivaji Ganesan in his first film, Parasakthi.
| | |
| --- | --- |
| | More on rediff.com! |
| | |
Dushyant's entry in the film was morphed from a Sivaji Ganesan image. All of this was aimed at reminding the audience that he is Sivaji Ganesan's successor.

As this film amply proves, nobody can fool the audience.

Ganesh (Junior Sivaji) is chivalry, kindness and innocence personified.

There is no blemish in his character save that he whiles away his time with some uncouth elements on his Yamaha (motorbike). He plays pranks on policemen, rescues women in distress and bashes up evildoers.

His sister (Roja) runs an Internet café. She walked away from her husband to take care of her brother, who still wastes his time on the streets.

Dushyant's antics take an ugly turn after his sister is insulted by the family whom Roja meets to arrange an alliance for Dushyant. Sonia Agarwal of Kadal Kondein is totally wasted in the film as the prospective bride.

The hero decides to take revenge by tying a thali (mangalsutra) around her neck, when she and her family are scheduled to travel to Chennai for her marriage, now arranged with someone else.

The twist is, Dushyant ties the thali around the neck of another girl also headed to Chennai for her wedding. He mistakes her for Sonia. So when the girl, Mahalakshmy (Nandana), steps out of the train in Chennai, she has a thali around her neck. The angry groom's family cancels the wedding.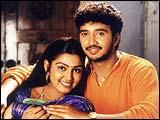 Roja orders him to find the girl and make amends. Which basically means he has to marry her. He locates her and the rest of the story is about how he wins her and her family with his chivalrous deeds.
From the beginning to the end, from the hero's name to the name of the Internet café, the film has an overdose of Ganesha.
The film is more suited for the audience of the sixties or the seventies. It has no place in 2003! Junior Sivaji looks, talks and behaves like a hero of the past. One wonders whether the young men of today will identify with him.
He also looks tentative throughout the film, while his friends are intolerably loud and crude. The only artiste who looks and acts naturally is Urvashi, as Mahalakshmy's sister-in-law. She is the film's only saving grace.
Director Suresh Prasanna is directionless and clueless from the beginning. It seems like the only direction he had is to make a Sivaji Ganesan film and make Dushyant another Sivaji.
Would YOU like to write a review of this film? This is your chance!
Want to see this movie? Check out Rediff Movie Tickets!


What do you think about the story?








Read what others have to say:





Number of User Comments: 1








Sub: dont take audiences for granted

Will tamil industry sinking with sagging scripts a few films like Kadhal konden wont help much. It's high time the producers, script writers don't take ...


Posted by Jillu






Disclaimer