Home > Movies > Interviews

The Rediff Interview / Mohanlal

'Life is not about acting alone'

Shobha Warrier | September 03, 2003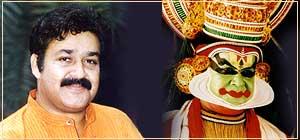 Malayalam superstar Mohanlal has acted in over 250 films in the last 25 years.
Born on May 21, 1960, this talented actor has won a lot of awards in his career.
On September 4, 1978, he faced the camera for the first time as an 18 year-old college student.
| | |
| --- | --- |
| | Celebrating Mohanlal on rediff.com! |
| | |
Now, just before the festival of Onam [the Malayalam new year] on September 8, his friends in the industry have organised a special tribute.

This writer had first interviewed him in 1987. He was undergoing an ayurvedic treatment course in Coimbatore at the time.

Years have passed, but he is still the same friendly, simple man.
| | |
| --- | --- |
| | Tell us! |
| | |
But yes, he has changed. From a man who answered in monosyllables, he is now very articulate and eloquent. There is also an air of the philosophical about him.

Relaxing in his office adorned with huge posters of Vaanaprastham taken at the Cannes International Film festival, Mohanlal reminisces with Shobha Warrier. Excerpts:

Your friends are organising a weeklong celebration in Thiruvananthapuram to commemorate your completing 25 years in the film industry.
Mohanlal's Achievements

Year

Achievements

Film

1989

Special Jury National Award

Kireedam

1991

National Award for Best Actor

Bharatam

1999

National Award for Best Actor, Film 

Vaanaprastham

1999

Went to Cannes Film Festival as actor-producer

Vaanaprastham

2001

Padma Shri

 

2003

IIFA Award for Best Supporting Actor

Company
Actually they started it in a very small way, but it has become a big celebration now. I think they have even invited [Kerala] Chief Minister A K Antony for the function. I am told that they have taken a house on rent and even started an office to oversee the function.

They will screen some of my films and publish a book with 43 photographs. Forty-three because I am 43 years old now.

How do you feel when you see this affection?

Overwhelming! Like all the other happenings in my life, this is also memorable. They are my friends and their love makes me extremely happy. I have some very good friends. I could never refuse them.

They are reciprocating their love in this way. It is only out of love that they are organising a function of such magnitude. The financial aspect of such a function is huge. Still, they are doing it for me.

This unselfish love makes me very happy and humble.

Your first film

Thiranottam, which was made when you were in college, was not released. That makes Manjil Virinja Pookkal your first film, which was released in 1980. Why, then, do you say you have completed 25 years in the industry?

See, I first faced a camera 25 years ago. It was on September 4, 1978, around 11.30am that we started shooting. Suresh Kumar [a well-known producer now] gave the clap. The shooting was right in front of my house.

Whether the film was released or not, you cannot deny that that was the beginning of my career as an actor.

The film was completed and censored, but we couldn't release it. I can never forget my first film -- it was instrumental in me becoming an actor. Recently, [television channel] Asianet showed the film.

Most of the people involved with the film were my senior friends. They made me enact a role.

After 25 years, all my friends who were associated with Thiranottam are still making films and are part of the Malayalam film industry.

Were you passionate about films then? Was making or acting in films your dream then?

I used to act in plays when I was in school and college, but you cannot say that I was passionate about acting. I was only interested in being a part of the group and the group was passionate about filmmaking.

My friends asked me to act in Thiranottam and I did. It was as simple as that.

Does that mean you did not want to be an actor even after acting in a film?

Yes. Our plan was to produce a Tamil film after Thiranottam. We even recorded music for it.

That was when [banner] Navodaya advertised for newcomers to act in their new production to be directed by Fazil. My friends sent my bio-data to Navodaya.

Then, one film after another happened. I had no time to think about what I was doing. I just drifted along.

You started your career as a villain, which not many actors do for fear of being typecast.

When I was offered that role in Manjil Virinja Pookkal, I was not concerned whether it was the role of hero or villain. I was not bothered about my next film or role.

I then acted in many comedies. Then came roles as hero. Nothing was planned in my career. Even today, my life flows.

Don't you feel you have been lucky as far as your acting career is concerned?

There was a guiding force that pushed me throughout. Can you call it luck? I don't know. If you think acting in films and being part of the industry for 25 years is something great, maybe I am lucky [laughs].

Life is not about acting in films alone. There are so many things in life other than films and acting.

Isn't remaining at the top for 25 years in an industry an achievement?

That is because I had the good fortune to associate myself with some very good and talented people. You need to have the good fortune to act in good films, be directed by talented people, have good co-stars and get good characters. The fate of an actor or film does not end there. The film has to be a success, it has to be liked by people, and, above all, he [the actor] has to be liked by people.

Did not Naseer Sir [Prem Naseer] remain at the top for many, many years? I don't think I have achieved a small percentage of what he did. The time span of an actor reduces as the years go by.

I have never bothered about the success or failure of my films. Not once have I tried to find out when a film of mine would release or whether it succeeds at the box office. Most of the time, I am unaware of the release of my films.

When I first spoke to you in 1987, you were not so philosophical or detached. When we met again after six years, you had changed a lot. When did this transformation take place?

I think it was after your interview in Coimbatore that I changed! Maybe the shock you gave me changed my outlook on life! [Laughs.]

Jokes apart, when I was undergoing treatment in Coimbatore, I had the good fortune to talk to Krishna Kumar [of Arya Vaidya Pharmacy, Coimbatore] for hours about so many things. I interacted with many such people there.

My maternal uncle has also been a big influence in my life.

When you portray so many positive characters on screen, you also tend to imbibe something from them. People say you tend to show some of the qualities you possessed in your previous birth. I don't know about that.

There is news about the fading away of superstars. Does it worry you?

It is inevitable. One day, all of us have to fade away. That is not confined to acting alone. Singers, sportsmen, people from all walks of life have to pave the way for new people to come. Should we be bothered about such things?

Many people who were with me earlier have passed away. We also will die one day. Is calling you a fading star, or a film of yours flopping, bigger than death, the ultimate reality?

You have been at the top for decades. Does it scare you to not be at the top?

Did I ever aspire to be at the top? No.

If you look at the world of cinema, new people enter and push the older people out to dominate the field for some time. It is bound to happen.

But after so many years, you will reach a saturation point as far as the kind of roles you get.

Have you ever looked back, especially now that you are celebrating your silver jubilee in films?

Twenty-five years is a long time. But I am associating myself with the same people with whom I started my career as an 18-year-old. So we don't feel old at all. When we start working, we feel we are still the same youngsters. I do not feel that so many years have passed by!

Photographs: Sreeram Selvaraj





What do you think about the story?








Read what others have to say:





Number of User Comments: 27








Sub: mohanlal

I detest heroworshipping the way it is being practised.But Mohanlal happens to be one of those persons whom I do adore for his immense talent ...


Posted by haridas









Sub: U r the Best

Hi Laletta, I am die hard fan of yours.. There are near to nil actors of your calibre.. I wish you all the best and ...


Posted by subhodh









Sub: mohanlal

Yes ! Mohanlal is one of the best actors india has ever seen . I would personally put mohanlal in number 2 spot in Indian ...


Posted by ayappankutty









Sub: Dear Laletta, U r the best in this country

Laletta, I have watched almost all ur movies, I have watched most of ur movies 15-20 times, because the movies have some thing interesting in ...


Posted by john joshi









Sub: Hearty Congratulations!

Dear Lal-ata, I congratulate you for sucessufully completing 25 years in the film industry.I have seen a good number of movies of u in the ...


Posted by SANTHOSH MI






Disclaimer