Home > Movies > Message Board

September 03, 2003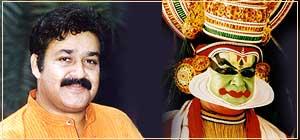 Malayalam superstar Mohanlal completes 25 glorious years in the film industry on September 4.
Comedy, action, romance. You name it, Mohanlal has done it.
Ask him for his favourite films, and he will promptly reply: Manjil Virinja Pookkal, Sanmanassullavarkku Samadhanam, Manichitrathazhu, Narasimham, Iruvar, Company, Chitram.
But which is YOUR favourite Mohanlal starrer? And why? We'd love to know! Join rediff.com in celebrating the silver anniversary of the legend's career.


What do you think about the story?








Read what others have to say:





Number of User Comments: 126








Sub: Fave Mohanlal Film

Versatile. Effortless.Intense yet detached.Balanced yet experimental. Much praises and laurels have been bestowed on the powerhouse of talent the man is. After all the ravings ...


Posted by arvind









Sub: Lalettan is the ultimate......

Mohanlal seems to be the ultimate epitome in indian film history as an actor can ever possible to reach....The amazing factor is that he could ...


Posted by anurenj joseph









Sub: Malayalam Film Thoovanathumbikal

Hi, I am looking for Malayalam Movie Thoovanathumbikal as DVD. I will be thankful if some one can send me a tipp.


Posted by Sunil









Sub: the best lal pic

For me, the best Lal picture is Sadayam.


Posted by Shahul









Sub: mohnlal the gr8

my best mohan lal pic was manichithra thazha...simply fab man..and he looks so young too..simply the don..


Posted by prashanthcecil






Disclaimer