Home > Movies > Bollywood News

'He used to speak a lot about the Partition'

Syed Firdaus Ashraf | July 12, 2003 16:58 IST



Saeed Mirza directed the late Bhishm Sahni in his debut Hindi film, Mohan Joshi Hazir Ho. The director pays a tribute to Sahni, who died due to a cardiac stroke on Friday: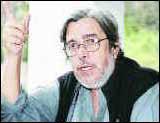 For Mohan Joshi's face in the film, I wanted a face never seen earlier. Bhishm Sahnisahab's face was like [the late poet] Kaifi Azmi. It had history. A history of dignity, honesty and struggle. When I met him, I immediately decided this was the face I was looking for. 
My association with him since was been wonderful.

Bhishm Sahnisahab's face was right and half my battle was won in the film. He was an extremely intelligent human being. He was quite amazed and amused when I told him I want to cast him in the main role. This was his first film and [the late] Dina Pathak played his wife.
I knew his daughter Kalpana and her husband Romi Khosla.

He was 69 years old when we shot Mohan Joshi Hazir Ho. He had to walk through floods during shooting; he never complained. He just did his job. Both he and Dina did a great job without a whimper. They trusted me.
Qayamat: Hot babes, hotter action
The only book of his I have read is
Tamas
, but his demise has brought a great loss to our country. History has been wiped out with people like Kaifi Azmi, Premchand, Kishenchandra and Rajendra Singh Bedi gone. These are the people in Hindi and Urdu literature which gave our country dignity.
He used to speak a lot about the Partition, poetry and literature.

Recently, I saw [Aparna Sen's] Mr & Mrs Iyer, where he played the role of an old Muslim killed by a fundamentalist mob. He played the role brilliantly. He sat in the bus quietly, like a dignified Indian. 
Also Read:
'Bhishm was the best': Govind Nihalani
Click here for More Features


What do you think about the story?








Read what others have to say:





Number of User Comments: 3








Sub: Bhismasani

It is with sadness taht I read the news of Bhishmasani's death. I read his book Tamas, while I was living in Shimla in 1980s. ...


Posted by satyavani









Sub: End of an era..

What more could I say? This brings to an era that was marked by distinguished, honest, passionate and digified Hindi literature. Tamas, for example, jolts ...


Posted by Pinaki









Sub: Bhisham Sahni

Bhisham Sahni was not just a great literary figure but a fine and sensitive human being. I had the fortune of interacting with him for ...


Posted by T. Ramakrishnan






Disclaimer