Home > Movies > Interviews

The Rediff Interview / Rakesh Roshan

'Koi... Mil Gaya is not an Indian E.T.'

Seema Pant, Syed Firdaus Ashraf | August 07, 2003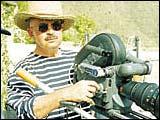 Rakesh Roshan's second film with son Hrithik, Koi... Mil Gaya, is easily one of the most eagerly awaited flicks of the year. Their last film together, Kaho Naa... Pyaar Hai, which also happened to be Hrithik's debut film, was a blockbuster.

Koi... Mil Gaya is expected to boost Hrithik's career. The actor has had only one hit to his credit besides his debut film and Karan Johar's Kabhi Khushi Kabhie Gham.

KMG is the first Hindi film which features an alien. The sci-fi movie also sees Rakesh Roshan in a cameo, his first on-screen appearance after Sawan Kumar's Mother (1999).

The director chats with Seema Pant and Syed Firdaus Ashraf about KMG.

Tell us about

Koi... Mil Gaya.

It is a very simple film shot in north India. It is about a mentally retarded young man who has the mind of an 11-year-old. The story is about his relationship with his mother, his girlfriend and an alien. The only common factor between the alien and humans is emotion.

It is a commercial, formula-based film, yet very different. It is not based on E.T. We cannot call it an Indian E.T.

Do you think people will accept Hrithik as a mentally challenged person?

Yes, of course, they will. His performance is good. Children will love the way he has performed.


| | |
| --- | --- |
| | Koi... Mil Gaya on Rediff! |
| | |
Aren't you taking a risk?

No, if I make a formula film, it will not work. The audience is very intelligent now. Anyway, every film you make is a risk.

I always try to make different films. I never repeat myself. After Khudgarz, I made different films like Khoon Bhari Maang, Karan Arjun, Koyla, Kaho Naa... Pyaar Hai. I like to do different things. I feel the industry has become stagnant doing the same old love triangle stories.

Take Devdas and Chitchor [Sooraj R Barjatya's Main Prem Ki Diwani Hoon, which starred Hrithik Roshan, Kareena Kapoor and Abhishek Bachchan, was a remake of Basu Chatterjee's Chitchor]. When world is moving ahead, why are we moving behind?

Is the audience ready for such a subject?

The audience will like the film. I have not made a hi-fi science film. It is an emotional and universal film. The alien was created at Bimini Special Effects Studios, Australia, and the special effects were done by Mark Kolbe from Los Angeles.

NRIs will also love this film because, technically, it is very sound. They will not find fault with it.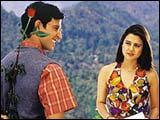 Tell us about Preity Zinta and Rekha.

Preity plays a very confident girl. In the beginning, when she meets Hrithik, she dislikes him because he is very mischievous and plays a prank on her. Then she realises this boy is very innocent and clean and tries to help him. I liked Preity in her debut film, Dil Se..,  itself. I have had her in mind since then.
Rekha has a tough role as she finds it difficult to handle the boy. She is the only person who understands his problem. Rekha is like a part of my family.
What took you so long to make this film?

To make a film like this, you need a lot of preparation. I started work only when everything was finalised. I started working on the film in October 2001. We started shooting for it on August 1, 2002.
| | |
| --- | --- |
| | More on Rediff! |
| | |
Tell us about the film's music.

The music [by brother Rajesh Roshan] is great. Listen to the [audio] cassette. If you see the film, you will like the songs 10 times more. There is a lot of fun and entertainment in the film. It is a family film.

Was it difficult to return to films after you were attacked?

I was disturbed for a month. But I thought I have to move on. God gives you strength. It was a tragedy that could have happened to anybody. It bothers me when I read about some servant killing an old couple or about men being killed for Rs 5,000.

How did the attack affect your family?

It was three years ago. They have overcome it now.

How, in your opinion, has Hrithik evolved as an actor?

He is improving day by day. He has been in this profession for only three years. He is still a newcomer. He was called a superstar but I always felt he is a newcomer. He had huge burden on him because people gave him a lot of responsibility. He is still a learner.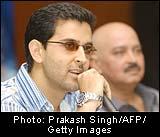 Does he consult you?

Yes. He likes to use my experience. As a father, I will always be there for him. Our opinions may differ, but we do consult each other.

How does it feel when the magazines that once called him a superstar now call him a flop actor?

It shows the inconsistency of the magazine. Hrithik is still there. He is working with the top banners.

As a director, can you comment on what went wrong?

They were bad films. An actor cannot make a film run. His job is to do what the director wants. In my films, the actor cannot say what he wants. I run the show.
The actor is only a puppet; he is under the director's control. He does not know what is happening in the film, like the background music, script or how the other actors act. Only the director knows that.

Can you find fault in his films?

No, it is very difficult to do that. But if a film does not do well, it means it is bad.

Do you know what makes a film a hit?

I don't know whether a film will be a hit or flop. I am not sure about Koi... Mil Gaya. If I knew that, I would be God.
Click here for More Interviews


What do you think about the story?








Read what others have to say:





Number of User Comments: 15








Sub: _have a ideya_

dear sir. rakesh roshan. my name is kalpesh i am in gujarat. n my age is 25. n i look a yor dercson moves a ...


Posted by kalpesh.k.gajjar









Sub: Hrithik was the best,is the best and will remain the best forever

Those people are really silly who can't understand what to say when.H.R and the senior Roshan have always worked seriously to reach the top.It's not ...


Posted by Purnima Kedar









Sub: koi mil gaya

i dnt y everyone is talking about hrithik being a one film wonder no one is perfect in all that they do there is someone ...


Posted by sini mathew









Sub: Can't think of one

hello everyone i don't know why people alaways compare hollywood and bollywood.i have alaways seen critics telling us that which bollywood movie is copied from ...


Posted by Radha karia









Sub: hi

yeah sure the interview was lame but the theme of the film is worse. aliens!!!!! give me a break.some people might say its a tough ...


Posted by aparna






Disclaimer