Home > Movies > Report

Supreme Court: Karishma is on

August 04, 2003 17:10 IST
Last Updated: August 04, 2003 19:49 IST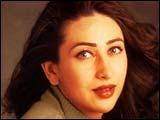 US-based novelist Barbara Taylor Bradford received a setback when the Supreme Court rejected her plea seeking a stay on the telecast of the Rs 60 crore Sahara Television serial Karishma -- The Miracles of Destiny.
Bradford had filed a suit against Sahara Television saying the serial was an unauthorised copy of her novel, A Woman of Substance. The serial, which marks the debut of Karisma Kapoor on the small screen, also stars Sanjay Kapoor, Arbaaz Khan, Jugal Hansraj and Arshad Warsi. Only one episode was aired on May 12 before the stay order was passed on the serial.
The Supreme Court waived the huge damages imposed on her by the Kolkata high court. The high court division bench had, on July 21, allowed the telecast of the 280 episode serial, after it found there was no proof it had been plagiarised from A Woman of Substance. It directing Bradford to pay damages for the delay in the serial's telecast as well as litigation costs. Bradford was asked to pay Rs 1.5 lakh to Sahara Entertainment for every week of delay in the serial's telecast since May 12; Rs 10,000 as cost for each day of the court proceedings and Rs 15,000 as cost for every day of the appeal court hearing.
More Reports
© Copyright 2006 PTI. All rights reserved. Republication or redistribution of PTI content, including by framing or similar means, is expressly prohibited without the prior written consent.



What do you think about the story?








Read what others have to say:





Number of User Comments: 2








Sub: karishma and sc

yes this is very perfect decision and appreciate most as a compensation is awarded to the sahara tv. it has become a practice in this ...


Posted by shashi pai









Sub: Wrong decision

Thats really unfair of our judiciary system. Infact it will make a worse reputation of India. And moreover, plagerism is never going to stop if ...


Posted by Ritu






Disclaimer