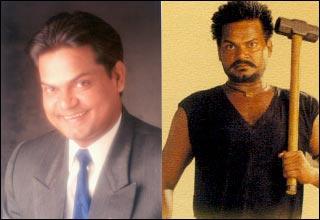 HOME | MOVIES
Akhilendra Mishra
Arjan, the blacksmith




The beginning: I worked with Aamir in Sarfarosh (I played Mirchiseth.)
I come from Starang, Bihar. My forefathers were farmers and have paid lagaan during British rule. So I could relate to the film and my role very well.

The shoot: It was great. The schedule was strict. We would wake up at six am, dress up and get into the actors' bus, which would take us to the sets, 26 km away. The set was in a village called Kuneria.
All the actors, including Aamir, travelled on that bus. If we missed the bus, it was up to us to reach the sets. So we had to be on time.
On the sets, we were given call sheets with the day's timetable -- like breakfast, hair styling, make-up, costumes, etc.
As for me, I worked a lot on my body language, mind modulation and emotions. Ashu guided me a lot there.

Best scene: I loved the song, Chale chalo. But my favourite scene is when I go in to bat.
A British player tries to disturb my concentration. That makes me very angry and I get out in four balls.

On Lagaan: I'm very proud to be associated with Lagaan. The film has only one star; the rest are all theatre actors. Even so, it's doing well.
Thanks to the sync sound, we didn't have to dub. The emotions I felt while enacting a scene were captured in my voice. That atmosphere does not have to be re-created. Sync sound is a great idea for an actor.
I am very happy with the public response.
On June 10, the cast and crew went to Bhuj to screen the film for the villagers. That was the real premiere. They were so happy. They said it was the first time that they wore good clothes and had an outing since the earthquake.
Bhuj has scanty rainfall; it hadn't rained there for some eight or nine years. But as soon as we stepped out of the theatre, it poured! That added to our happiness.
Ashu and Aamir made the film with a lot of confidence. A lesson was taught without violence.

Future projects: Lal Salaam with Nandita Das. I play a forest officer. It's a negative role.
Aanch with Nana Patekar. I play Kalu Pandit, a negative role.
Pyaasa has me playing Yukta Mookhey's father -- a positive role. I really like this role because it takes me through life -- from youth to old age.
In Dhadhak with Seema Biswas and Nirmal Pandey, I play a journalist -- it's a negative role.