Indian Oil Corp plans to add three Latin American and two Middle Eastern countries to its annual oil purchase deals in the fiscal year through March, a parliamentary committee said, as the energy-hungry nation diversifies its supply sources.
"For 2013/14, new term contracts are being proposed with NOCs (national oil companies) of Colombia, Venezuela and Brazil as well as NOCs of Qatar and Dubai," said a report made available in parliament on Wednesday.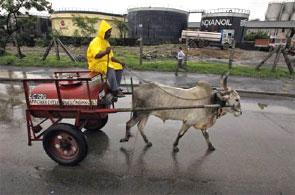 The committee suggested India should widen its oil sources to ensure its oil supplies were not affected in case of geopolitical problems in any region or country.
Diversification of oil sources have become more urgent as Western sanctions over nuclear projects squeeze imports from Iran, once India's second-biggest supplier, and geopolitics hit supplies from Libya and Sudan.
India, the world's fourth-biggest oil buyer and Iran's top client after China, imported about 26.5 percent less oil overall from Iran in 2012/13, industry data showed.
Despite dwindling supplies from Iran, the Middle East continues to be the biggest oil supplier to India although its share in the country's crude diet is declining as new refineries are geared to process cheaper, heavy grades from Latin America to improve margins.
State-run refiners meet most of their high sulphur oil needs through term deals and tap the spot market for sweet grades - about 20 per cent of overall requirements - as availability of low sulphur oil through contracts with NOCs is limited, it said.
To streamline India's oil purchase procedures and save cost and time of state refiners, the committee suggested setting up a joint venture company, promoted by state refiners, to import.
"The company may be given enough flexibility as enjoyed by private sector refineries to carry out their operations including price negotiations, hiring of ships and negotiate better terms on freight etc.," it said.
Private refiners Essar Oil and Reliance Industries , owner of the world's biggest refining complex, are not subject to government rules on crude procurement, which for example, prevent state-run firms from buying distressed cargoes.
The report suggested these rules, last revised in 2001, should be changed to widen purchase opportunity for state refiners.
The recommendations in the report from the cross-party committee are not binding but have to be considered by the oil ministry.
Image: A worker transporting kerosene in a bullock cart travels past Indian Oil Corporation's fuel depot in Mumbai Photograph: Danish Siddiqui/Reuters