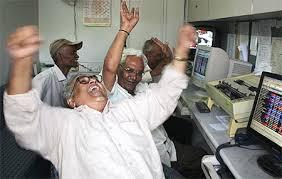 Benchmark share indices ended at record closing highs and the Sensex ended above 27,000 for the first time after the country's balance of payments remained in surplus for the third straight quarter during April-June 2014.

The 30-share Sensex ended up 152 points at 27,019 after hitting a record 27,082.85 and the 50-share Nifty closed 55 points at 8,083 after hitting a record high of 8,101.95.

India's current account deficit for this financial year's first quarter, April to June, narrowed sharply to 1.7 per cent of gross domestic product ($7.8 billion) from 4.8 per cent of GDP ($21.8 bn) in the corresponding period of 2013-14.

Further, India's balance-of-payments remained in surplus for the third straight at $11.2 billion for Apr-June 2014.

The Indian rupee was trading lower at $60.67 against the previous close of $60.52 shrugging off gains in the domestic stock markets in which both the benchmark indices hit fresh record highs.

Asian markets gained on Tuesday with Nikkei and Shanghai Composite rising the most. Japanese shares firmed up to end 1.2% higher at 15,668.50 while the Shanghai Composite was up 1.3% at 2,266.

Singapore's Straits Times ended up 0.4% and Hang Seng ended flat with negative bias.

European were trading with gains in early trades on Tuesday, tracking gains in China and Japan, ahead of key economic data in the euro zone. The CAC-40, DAX and FTSE-100 were up 0.2-0.9% each.

The BSE Healthcare index was the top gainer up 1.8% followed by Consumer Durables, Oil and Gas, Bankex and FMCG among others.

Cipla was the top Sensex gainer which surged 5%, after hitting a record high of Rs 575, after the pharmaceutical firm launched an anti-asthma inhaler in Germany and Sweden that is a generic version of GlaxoSmithKline Plc's Advair.

It's peer Sun Pharma was up 2.6% while Dr Reddy's Labs was trading with marginal gains.

HDFC Group shares, mortgage lender HDFC and private banking major HDFC Bank ended up 0.6-2%
each. SBI and Axis Bank gained 0.7% each.
Bharti Airtel extended gains to end 4.2% higher after its arm Airtel Networks Kenya Limited (Airtel Kenya), a wholly owned subsidiary of Bharti Airtel International Netherlands BV has signed a definitive agreement with Essar Telecommunications Kenya Limited, which operates under the brand name yuMobile to acquire its over 2.7 million subscribers.
Hero MotoCorp ended up 1.5% after hitting a record high of Rs 2,819 as the company late Monday reported 21% rise in its total sales during August 2014 at 5,58,609 units.
Other Sensex gainers index heavyweights ITC and Reliance Ind ended up 1-1.3% each.
Among other shares, cement makers were in demand on expectation of improvement in demand along with an increase in prices once monsoon season ends.
ACC, Ambuja Cements, UltraTech Cement ended up 3-3.5% each.
Punj Lloyd ended locked in 5% upper circuit at Rs 39.70 on reports that the company is planning to sell its stake in Gurgaon-based multi specialty hospital Medanta Medicity Hospitals to cut its debt.
SPML Infra ended in 5% upper circuit at Rs 65 after the company said it has won new orders worth Rs 1,232 crore from Uttar Pradesh Jal Nigam, Agra and Sardar Sarovar Narmada Nigam, Gandhinagar.
GMR Infrastructure gained 3.5% to end at Rs 26.65 after the firm signed a memorandum of understanding (MoU) with Japanese Bank for international cooperation (JBIC) for financial assistance.
Vikas GlobalOne surged 20% to end at Rs 36.90, after the company announced that the board is considering issue of bonus shares to existing shareholders.
TVS Motor Company ended up 4% after reporting a robust 46% year-on-year (yoy) growth in total sales in the month of August 2014 to 227,482 units. The company had sold 155,532 units in the same month last year.
In the broader market, the BSE Mid-cap index gained 0.8% and the Small-cap index ended up 0.9%.
Market breadth was strong with 1,742 gainers and 1,246 losers on the BSE.