Students who have received admission to foreign universities are struggling with unexpected delays, additional living costs and scarcity of vaccine supplies.
Divya Nair/Rediff.com reports.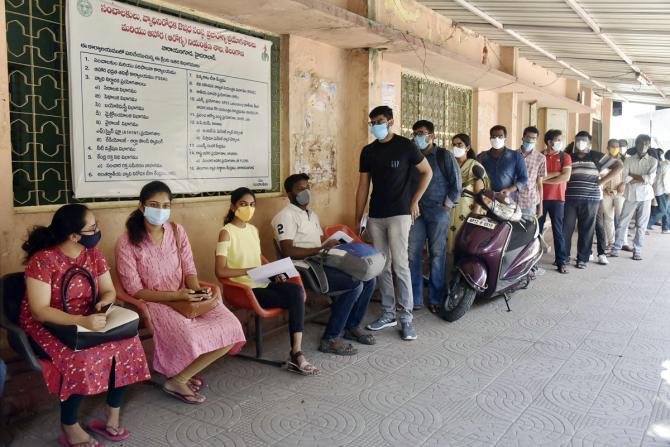 India contributes more students to the international student population in the world than any other country except China.
According to a report provided by the ministry of external affairs, there was a 55 per cent dip in the number of Indian students travelling abroad in 2020. Only 260,000 students from India travelled abroad in 2020 compared to 590,000 in 2019.
With a significant increase in the number of COVID-19 cases, international borders were sealed due to which thousands of students had to delay/defer their admisssion to academic programmes, while those enrolled returned home to India to take the rest of their courses online or opted for a hybrid academic plan.
A year later, not much seems to have altered the hopes of Indian students.
As per a recent study conducted by Leverage Edu, an overseas education platform, 94 per cent of Indian students are more eager to study abroad this year as compared to 2020.
Despite the uncertainty, new academic rules and restrictions, students are keen to travel to foreign universities for these reasons -- flexible curriculum, better healthcare, diversity and international exposure, better scope of career and future work opportunities.
Only a meagre 5.4 per cent of prospective students intended to cancel their study abroad plans in light of the continuing COVID-19 pandemic.
The UK, Canada more popular destinations
Although some of the top ranking universities are in the US, according to Leverage Edu's report, 75 per cent of Indian students chose the UK as their preferred study destination followed by Canada (13 per cent) and US (9 per cent).
Kevin Anto Joseph, 22, from Belapur, Navi Mumbai, who got admission at Conestoga College of Applied Arts and Tech, Ontario, Canada, to study energy management, says he always had his sights on Canada.
"A lot of my friends are studying in Canada. I spoke to my cousin who is a citizen there. He also motivated my decision," says Kevin, who finished his training in electrical engineering in 2020, but had to delay his travel plans after the lockdown.
"I graduated in 2020, but because of the lockdown, securing a job here in India has been really tough," Kevin Rediff.com. "Compared to the US, Canada is cheaper, has a lot of options for colleges and offers better (career) opportunities too."
Sakshi Dasgupta, from Bengaluru, explains why she chose to study in the UK over the US: "While comparing costs of education, although US universities offered a flexible curriculum, some of the courses were being held online but the semester fees were hiked by 20 to 30 per cent as compared to 2019 and 2020. The good part about colleges in the UK and Europe is that the (number of COVID-19) cases I felt were much less due to stricter travel norms."
Students like Sakshi and Kevin, who have already lost an academic year in 2020, because of the unexpected lockdown and procedural delays, would not want to waste more time.
"The courses in the UK are of shorter duration, the curriculum is intense and cost less," says Sakshi, 23, who has deferred her admission to study in the UK to September 2021.
"I have lost almost a year because of delays, so I hope to graduate faster and look for employment," she adds.
Unexpected delays
While most of those who applied for May and September programmes in 2020 had to either defer their classes or take them online, students who applied in January 2021, are still uncertain about their travel plans.
Test centres are simply not available, says Robert* (name changed), 25, who scored 720 in GMAT, a requisite for admission into post graduate programmes, but is reconsidering his options and plans to apply to colleges in 2022.
"Many exams such as GMAT have adapted to be given from home. Getting used to the updated exam took time," says Robert, who hopes to pursue a master's degree at an Ivy League university.
Kevin who signed up with IDP, a study abroad consultancy in Vashi, Navi Mumbai, had to wait for months to get his confirmation.
"I gave my IELTS (International English Language Testing System) in December 2020, applied to a couple of universities in January 2021. I sent all documents to the consultancy via e-mail. But because of the lockdown, the offices were closed and there was some delay," he says.
"The college confirmed admission in early April. The visa application process (for Canada) usually takes two weeks, but I got my visa after almost two months. But they have extended the deadline to May 15," adds Kevin.
The vaccine struggle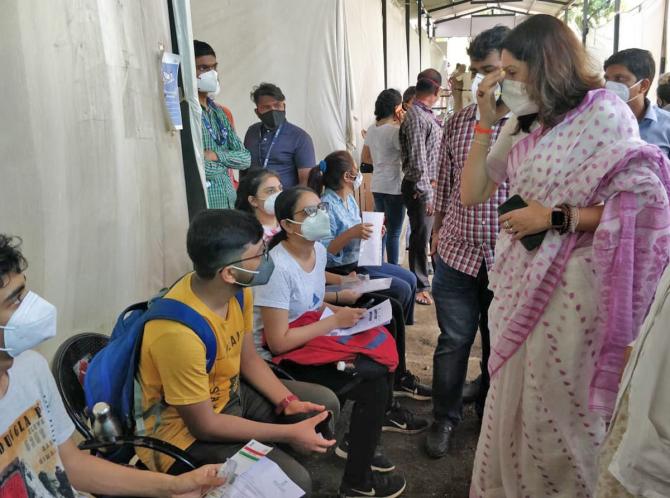 Apart from unexpected delays, a major concern among students is getting vaccinated on time before travel.
Several universities in Canada, Europe and America -- like the State University of New York, Cornell University, to name a few -- expect students to be fully vaccinated before they travel to attend in-person classes.
While WHO has approved vaccines from Pfizer, Johnson & Johnson, AstraZeneca, Covishield and Moderna, Bharat Biotech's Covaxin and Russia's Sputnik V (yet to be available in India) are not approved.
In the absence of a single-dose vaccine (only made available by Johnson & Johnson), students are at mercy of being administered just Covishield, the approximate waiting period for which is between six to eight weeks.
Although on May 1, the central government announced vaccination for everyone above aged 18 years after registering for a slot through Cowin app, Kevin says he could not land a slot on the Cowin app for more than three weeks.
"The slots were supposed to open at 5.30 pm. But at 5.29 pm, the app would crash and when you logged in five minutes later it would be fully booked. So I wrote a letter to the commissioner of police (Navi Mumbai) explaining the situation and my urgency. With his recommendation letter, I was able to take my first dose of Covishield on May 27. My next dose is due on August 18."
On May 28, 2021, Maharashtra Tourism Minister Aaditya Thackeray announced walk-in vaccination drive at three centres in Mumbai for students with confirmed admission in foreign universities.
States like Kerala, Karnataka and Telangana followed suit, prioritising having students heading abroad undergo vaccinations.
While Kerala announced a special portal for students and mentioned that the vaccine certificate will bear details of their passport, Karnataka has provided an e-mail id for students to register.
However, the ground reality, according to some students is still pretty grim.
Sanika Nair, who lives in Bhandup, north east Mumbai, and plans to travel to Canada in August, went to the Rajawadi centre in Ghatkopar, also in north east Mumbai, on June 1 to get her vaccine, but she and thousands of other students returned home, unvaccinated, because only 100 students were given slots.
"The timings were 10 am to 3 pm. I reached the centre around 10.30 am and saw huge crowds outside the centre. I was told by the lady constable that only 100 slots were available and they were all taken. Turns out students had reached as early as 4 am to get a slot," says Sanika who plans to study at St Lawrence College in Ontario from September.
The lady constable at the Rajawadi centre told Sanika: 'Kal bhi nahi milega vaccine. Stock kam hai..kahi aur mil raha hai to dekh lo. Idhar mushkil hai (You won't get the vaccine tomorrow as well. The stock is limited. If you can arrange it elsewhere, do so),'
Sanika, whose mother works as a nurse, but is stuck in Kuwait, now aims to get assistance from her family -- some of whom are doctors and medical staff -- so she can get vaccinated on time before travelling to Canada.
"I never thought I'd seek anyone's help for my admission, but looking at the situation, I don't want to risk any delays," says Sanika.
Like Kevin, who hopes to take his second dose in August, Tanya Mishra believes that planning in advance has really helped her breathe a little easy.
"My father worked in the army. We had moved to Aurangabad last year so living in small town has its advantages. I have taken both shots of the (Covishield) vaccine," says Tanya, who holds a master's degree in media and cultural studies from the Tata Institute of Social Sciences, Mumbai.
On June 7, Prime Minister Narendra Damodardas Modi promised to implement a centralised model to ensure free vaccination for all. But students, who plan to sudy abroad, are racing against time to meet their deadlines.