'The more you love yourself, the prettier you feel inside and the prettier you will be.'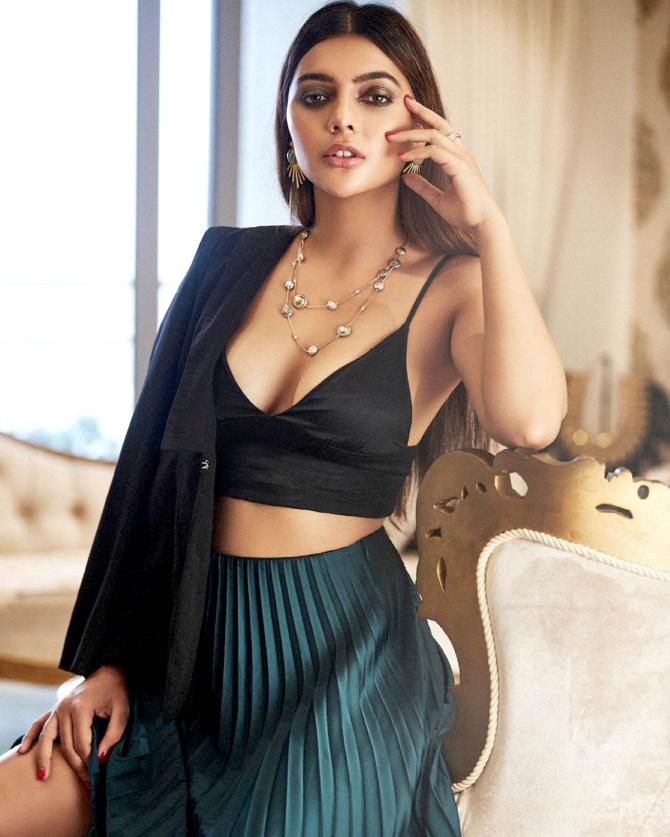 Former beauty queen and Calendar Girls actor Ruhii Singh has been a champion for fitness, beauty and health all her life.
"You don't have to sacrifice anything if you actually start enjoying living a healthy life, the 26 year old tells Rediff Contributor PS Aaryan Khanna .
How did life change for you after you won Miss India?
Life has changed immensely. I am so grateful to the Miss India Organisation for believing in me.
The exposure that I got when I was training for my international pageant -- the grooming, the training, everything that I learnt -- I will cherish it my entire life.
I grew up a lot with that training and became more confident not just for the film industry, but for life.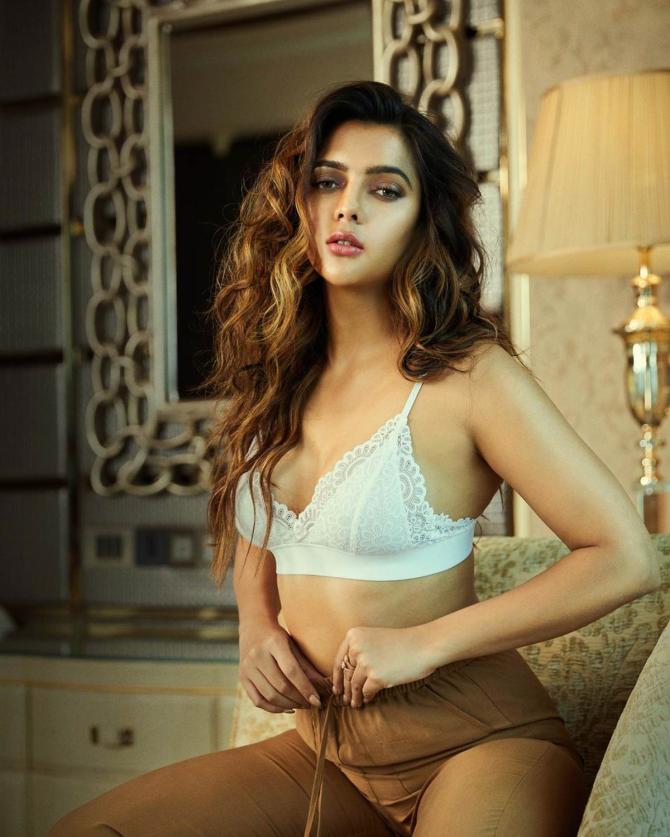 You began your career as a model. Do you miss walking the ramp now due to the pandemic?
Yes, I've been a model and it was quite a brief stint, but I definitely enjoyed it to the fullest.
I've always loved fashion weeks -- the energy, the buzz, the clothes like it's a festival in itself.
So I definitely missed it and but hopefully very soon again things will open up.
We'll be on the ramp before we know it.
From a model to an actor, how has the journey been?
It was quite a quick journey for me because I always knew that acting was my passion.
I knew that the moving camera is where my interest really is.
The transition was not very difficult for me because I was always interested in it and I've trained myself immensely.
It's obviously a very difficult and competitive field, but my motto always has been to believe in myself and to keep on working on my craft, which is why I do a lot of training to become better.
How important is professional training to be an actor?
You need to have a basic passion for acting and an interest in the craft, understanding of yourself and your emotions.
You also need the training to work on that craft to make it better.
Practice makes everything perfect. And it applies to acting as well.
You have to keep on dedicating yourself. You need to dedicate yourself fully to the craft.
Do enough workshops, get trained with people.
I've actually been fortunate to have trained under the very best from the industry, Samar Jai Singh Sir and Andrew Page Sir at Kreating Characters (an acting institute).
I've also trained with Atul Mongia, Neeraj Kabi. I definitely believe in training and working on your craft.
What's your idea of fashion?
I'm very old fashioned at heart and even when it comes to my fashion, I like to stick to the classics.
I'd definitely go for a nice pair of jeans with nice stilettos or elegant pants like a pair of trousers and stilettos.
I also love sunglasses -- a classic pair of aviators.
What are you most comfortable in?
A crisp white shirt, blue jeans, stilettos and aviators. That's my favourite look.
A fashion trend that you'd never try
My biggest pet peeve...something I don't understand is... why people wear fake brands.
I truly believe that it's not about what brand you wear, it's about how you carry it.
So, when people wear fakes and first copies or whatever, I don't see the point of it.
I think you should just buy whatever you know you like and not just run after brands.
When you buy a fake or copy, you are also disrespecting the brand. That is something I don't support.
Because it's never about how expensive the product is, but how confident you feel when you're wearing it.
So even if I buy something from a local vendor or a shop on the street and it's a beautiful piece, it's about how I look, how I feel wearing it and I can carry it off like an Armani.
I totally support local brands. But don't wear fakes. Buy authentic ones.
Fashion advice you'd share with people who are stuck at home
Be comfortable. During the pandemic, we explored a lot of comfy clothing.
So, find clothes you're comfortable in and (in which) you feel good about yourself.
During the pandemic, we did a lot of Xoom calls. So, apart from comfortable clothes, I also explored jewellery a lot more which I didn't wear earlier.
On Zoom calls you can glam up your look with earrings and finger rings.
Add nice big earrings to your look; maybe a necklace, some nice jewellery and experiment as much as possible.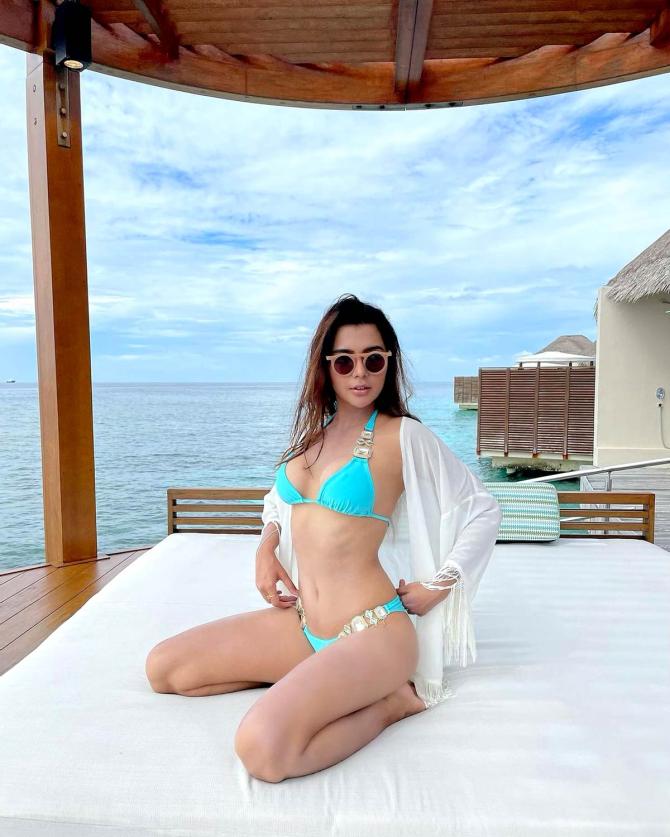 Your idea of beauty is...
What is beauty? It's just a term.
I believe everybody is beautiful.
What makes you beautiful? Find that!
For some people, it's probably their passion for what they do. That's what makes them beautiful.
For some people helping others and the way they contribute to society makes them beautiful.
If you enjoy fashion and makeup, please go ahead and do that. There is no rule.
You don't need to follow any trend or do any fashionable things if you don't like it.
Beauty should never be defined by how you're coming across to people because the only opinion that matters is your own opinion.
You just have to (love yourself). The more you love yourself, the prettier you feel inside and the prettier you will be.
How would you define your personal style?
I thoroughly enjoy fashion. I like to wear interesting clothes that make me feel confident and that makes me feel good about myself and that's what it means to me.
Fashion adds a dimension of happiness to my life. So, if I'm stepping out I really enjoy dressing up. I've always enjoyed dressing up even as a kid.
I used to dress up and play dress up all the time. I would say fashion is a game. It's my happy place.
I thoroughly enjoy experimenting and carrying myself off well and it brings me happiness.
I really like to mix and match. And, I'm not a fan of flashy prints.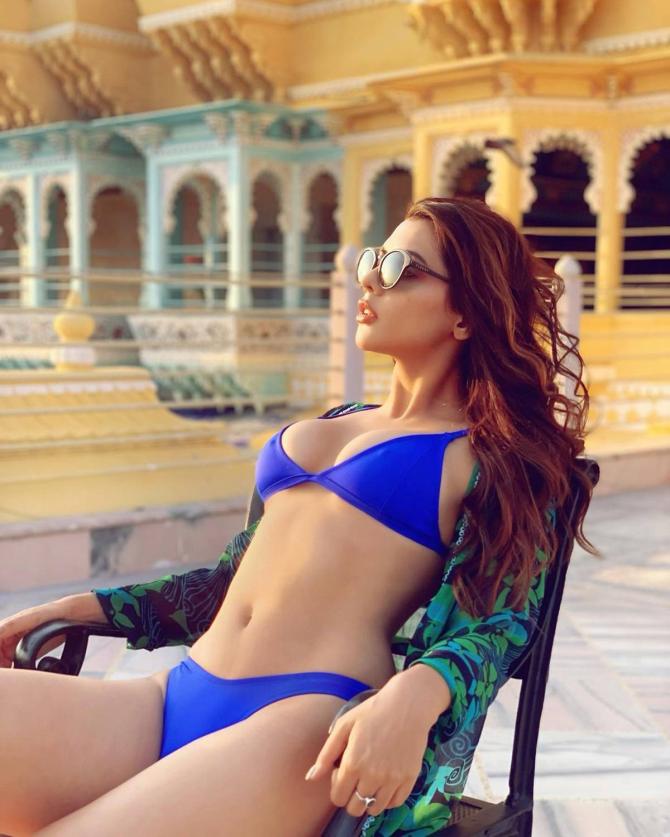 Where do you shop from?
With clothing, I like to experiment -- from brands like Zara to H&M to our local designers to Rocky S to Armani.
Whenever I go back to my hometown Jaipur, I also shop a lot from the shops in Rajasthan.
I like to buy a lot of bandhej work from our local shops.
Who are your favourite designers?
When it comes to shoes, I like Louboutin. My favourite would be the classic red sole. Which girl wouldn't love it?
Bags, I'm more of a classic girl. Gucci and Chanel are my favourite brands.
Rocky S definitely is one of my favourite designers. He's very talented.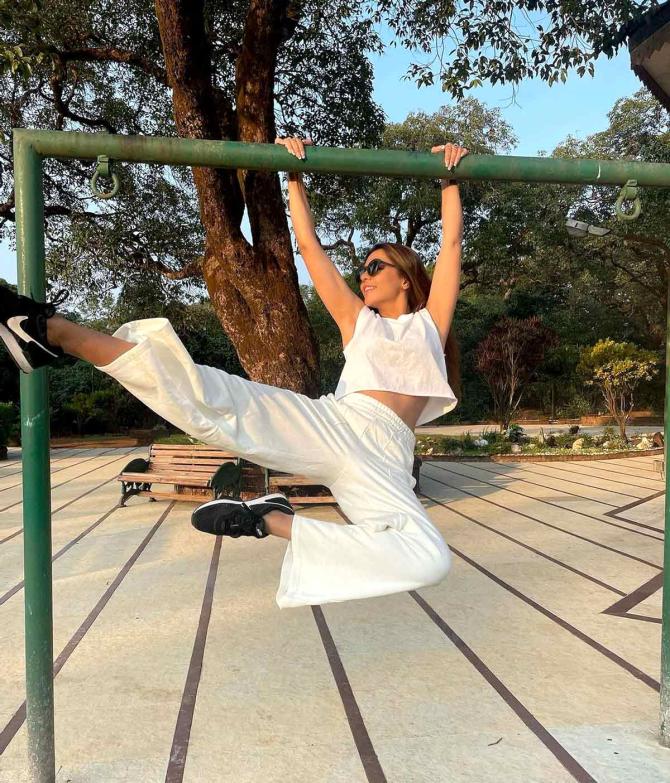 How do you stay fit?
I hit the gym every day for an hour. For me, it's a combination of fitness routines like I dance. I learned belly dancing, Kathak and contemporary.
There's also kickboxing.
So I am generally a very active person and I like to have a mix of all of these exercises.
It's very important to make it (workouts) interesting, and have fun because that's the most important part of life.
What's your daily diet like?
I don't really believe in any strict dieting. But yes, I believe in eating healthy and I try to eat as healthy as I can.
I add a lot of veggies to my diet, salads, eggs, paneer, or any form of protein. I love paneer, dal.
The good part is I have always liked home-cooked food. So, I've never really had an issue when it comes to food.
It's important to always balance your diet. Balance your meals. Don't overdo anything. Just have everything in small portions and you'll be good to go.
Do you have a cheat day?
Cheat meal day is a pizza. I absolutely love pizza from Domino's. Definitely that, or probably McDonald's.
How challenging is it to stay fit?
You don't have to sacrifice anything if you actually start enjoying living a healthy life.
If you start loving your body, if you start loving yourself, one hour in the gym, every morning is actually something you'll really enjoy if you get into the habit.
You'll want that one hour. It'll be fun for you.
A dance class is fun. Eating healthy food or drinking vegetable juice is also good -- you can have one vegetable juice a day or add fresh juices to your diet.
It's amazing because then you'll feel more hydrated, pumped up and energetic.
I am someone who sleeps very early and I wake up early.
Because sleep is very important; rest is important, recovery is important. I wouldn't call them sacrifices.
I would rather call them making the right choices.
A fitness tip you'd like to share with readers
It's very important to take care of yourself.
Your body is your temple. So take care of it.
Make sure you hydrate, hit the gym or do some kind of workout to stay fit and healthy.