Tasty Kerala-style Meen Pollichathu, or fried fish in a banana wrap, is totally achievable at home with Ramapriya Suresh's precise recipe.
The fish is first marinated with spices and semi-cooked.
It is then coated with layers of a special tangy spicy masala and cooked in a roasted banana leaf to give it a distinct smoky flavour.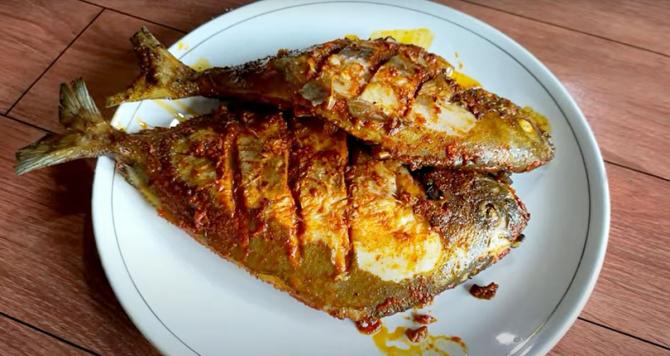 Meen Pollichathu
Servings: 2 portions
Ingredients
2 whole black pomfret, cleaned
3 tbsp red chillly powder
2 tbsp haldi or turmeric powder
1 tsp black pepper powder
1 tbsp ginger-garlic paste
1 tbsp dhania or coriander powder
½ a lemon
5-10 curry leaves
1 tsp crushed ginger
2 onions, chopped
2 tomatoes, chopped
½ cup fresh coconut milk
2 banana leaves
Oil for cooking, preferably coconut oil
Salt to taste
Method
Mix 2 tbsp of the red chilly powder, the black pepper powder, 1 tbsp of the turmeric powder, the ginger-garlic paste and salt in a plate or container.
Squeeze the lemon, add a few drops of water and mix well to make up the marination masala.
Slit the black pomfrets on both sides (please see the video below).
Gently apply the marination masala all over the fish and coat well on both sides.
Set aside for 30 minutes.
Heat a few tbsp oil in heavy-bottomed kadhai or frying pan.
Add the curry leaves, crushed ginger, chopped onions.
Saute till the onion turns golden brown.
Add salt and the tomatoes.
Saute well.
Add the remaining 1 tbsp red chilly powder, the coriander powder and the remaining 1 tbsp turmeric powder.
Add the coconut milk and cook on low to medium heat for a few seconds.
Take off heat and keep aside.
In a flat-bottomed frying pan, big enough to hold the fish, heat 3 tbsp oil and fry one of the marinated fish.
Pour a few tsp oil over it and fry till the fish is 70 per cent cooked.
Keep aside.
Repeat the process for the second fish.
Heat the banana leaf over direct heat to season/mildly roast it.
Place the leaf on a flat surface and spread 1 tbsp of the cooked masala evenly across it.
Place the fish in the centre of the leaf on the masala and coat the top of the fish with a layer of the masala too.
Gently fold up the fish in the banana leaf and tie it securely with a thread.
In the same flat-bottomed frying pan, heat a few tbsp oil and cook the banana-wrapped fish on medium heat for 5 minutes on each side till both sides are evenly cooked.
Repeat the process for the second fish.
Serve hot with rice or eat as a snack.
WATCH: How to make Meen Pollichathu
Ramapriya Suresh is the creator of the YouTube channel Ammu's Kitchen.