A simple, delicious strawberry-based recipe, easily rustled up at home.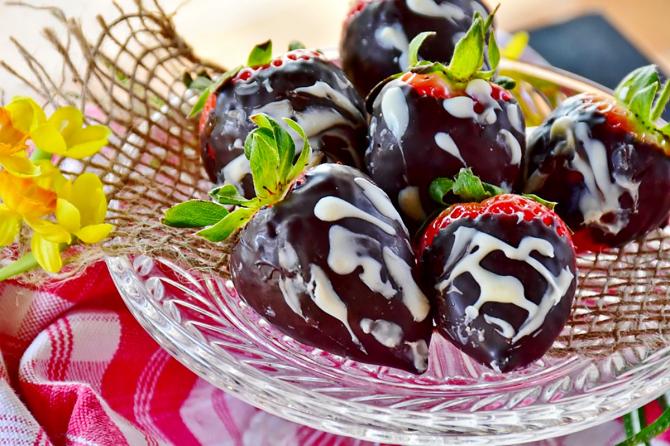 Chocolate-Dipped Strawberries
Ingredients
100 gm dark Swiss chocolate slab (85 per cent cocoa), roughly chopped.
If Swiss chocolate not available substitute with another fine chocolate brand
400 gm strawberries, washed and drained but don't remove the stems or the leaves
30 gm white or milk chocolate, roughly chopped, optional
Parchment paper to set the strawberries on; can use foil or a silicone baking mat too
Method
Create a water bath for the chocolate by filling a larger pot halfway with boiling water.
Fill the chopped chocolate in a smaller pot and place it inside the large one.
Make sure the water doesn't enter the smaller pot. Ideally the smaller pot should sit in a few inches of water only.
Alternatively melt the chocolate in a microwave.
Microwave the chocolate in a glass bowl for 20 seconds.
If it doesn't melt, heat for a further 20 seconds.
Keep checking the chocolate and don't keep it too long in the microwave or it may burn.
Stir the chocolate gradually as it begins to melt.
Once melted, place in a deep bowl.
Gently hold the strawberries by their leafy tops and dip 3/4 of each strawberry or more into the melted chocolate.
Tap off any excess chocolate and place them on parchment paper to set.
Once the chocolate-dipped strawberries have cooled, melt the white or milk chocolate using a double boiler. Drizzle the melted white chocolate over the chocolate-coated strawberries.
Serve with a side of freshly cut fruits.
Recipe contributed by Switzerland Tourism.