MasterChef Australia Season 13 winner Justin Narayan's love for fast food as well as Indian dishes is well-known.
That's one reason why this recipe is so special. It is a fusion dish that combines Mexico's popular street snack, tacos, with an Indian green chicken curry.
The 27-year-old pastor is a first generation Indian born in Australia with Fijian and Indian roots.
Justin gave Indian Chicken Tacos a healthy spin by using corn tortillas, but you can use all-purpose flour to make the thin flatbreads from scratch too.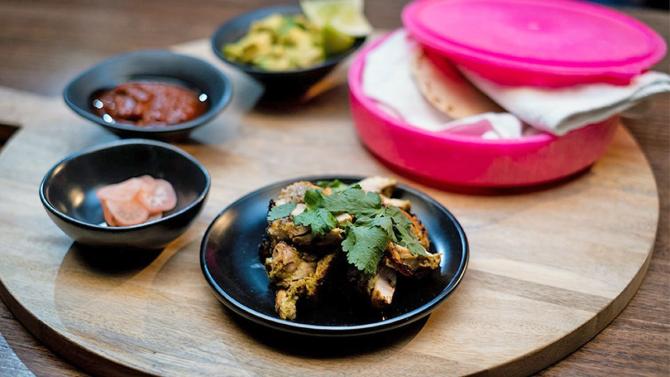 Indian Chicken Tacos
Servings: 8
Ingredients
For the green curry chicken
4 skinless chicken Marylands, bone out/deboned (Marylands are a cut of chicken with the drumstick and the thigh)
1 bunch green dhania or coriander or cilantro, leaves picked
1 small onion, roughly chopped
2 jalapeno chillies, roughly chopped
1 serrano chilly or one spicy green chilly with a pinch of redpepper flakes, optional
4 garlic pods
4 tbsp grapeseed oil, available online
Juice of 1½ limes
1½ tsp jeera or cumin powder
1 tsp smoked paprika
½ tsp oregano
Salt, to taste
For the tortillas (or use readymade flour tortillas available online)
1 cup corn Masa flour, available online or substitute with maida or all-purpose flour
1 cup hot water
¼ tsp salt
To serve
Salsa roja, available in gourmet grocery stores or online, it is a type of spicy red Mexican sauce, optional
Pickled radish
Avocados, chopped
Lime wedges
Green dhania or coriander or cilantro, chopped
Method
For the green curry chicken
Place the chicken into a bowl.
Process the remaining ingredients in a food processor until smooth.
Pour over the chicken, mix through and set aside to marinate for at least 40 minutes.
Preheat a grill pan. You can also use a heavy-bottomed kadhai or frying pan warmed over medium heat.
Cook the chicken in the grill for 5-6 minutes on each side until juices run clear when pierced through at the thickest part.
If you are using a frying pan it will take longer for the chicken to cook.
Take off heat and set aside to rest before slicing into 1-cm strips. Keep aside.
For the tortillas
Combine the flour and salt in a bowl.
Add the water and mix to a playdough-like consistency, adding more water or flour if needed.
Wrap in cling film and set aside to rest for 20 minutes.
Heat a heavy-bottomed frying pan over high heat.
Divide the dough into eight portions and roll into balls.
Press out thinly using a tortilla press or a heavy flat plate.
Cook in the pan on high heat for 10 seconds on one side, then flip and cook for 50-60 seconds and flip again, gently pressing the tortilla with a cloth it until puffs up.
Once puffed, transfer to a plate and cover with a damp paper towel so it stays warm.
To serve, place tortilla onto a serving board.
Add a bowl of chicken, spicy red salsa roja and pickled radish along with some avocado slices, lime wedges and coriander leaves.