Dutch model Debbie Dhillon fields questions on her first big break, beauty and health tips and the lessons life taught her.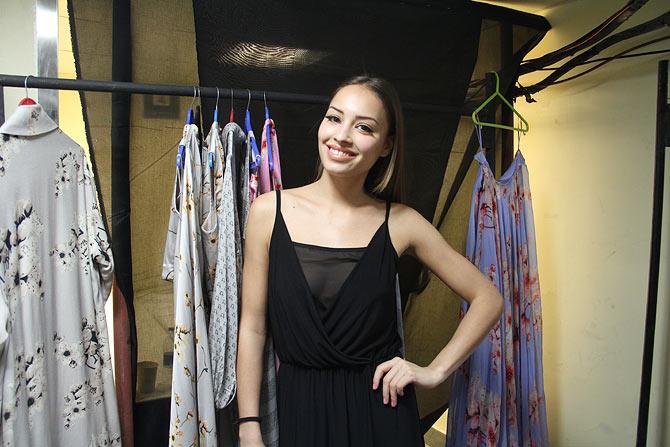 Photograph: Uttam Ghosh/Rediff.com
Age: 19
Height: 5 ft 8.5 in
Weight: 55 kgs
Hometown: Netherlands
The big break
Nearly three years ago, while I was still in high school, I auditioned for Miss India Netherlands and I was one of the finalists.
The same year, I walked for Manish Malhotra in London. I was the youngest (I was 17) and the only girl from the Netherlands to walk in the show.
It was all so much fun.
On Sunday I was treated like a princess -- my hair and make up was perfected by professionals and Monday morning I was back to school.
I pursued a Diploma and became a beautician but I soon realised that modelling was what made me happy.
Last year, I auditioned for Holland's Next Top Model and stood third in the country.
I got signed by Touche Models in Amsterdam and in India, Anima Creatives helped me bag an assignment with Lakme.
I came to India six weeks ago and since then I have done photo shoots for Vogue, Grazia and Femina.
I will be walking for designer Sailex today -- it will be my first show at Lakme.
Life Lessons
No matter where you go, you will always find people who have an opinion about you -- what you should do and what you must not.
If you have to succeed in life, you will have to stay strong and believe in yourself -- your talent.
No matter the hardships you'll face, just follow your dreams.
Beauty and health tips
It helps that I am a beautician. I know how to take care of my skin in extreme situations.
I don break a pimple because I know it will scar my face.
I scrub my face twice a week and drink a lot of water.
I walk a lot and back home, I used to do zumba.
For breakfast, I have oatmeal with banana, honey and nuts.
For lunch, I have yogurt and fruits. For dinner, I eat roti and boiled veggies.
Advice for aspirants
Do not care about what other people think. Stay focused on your goals.
If you meet friends who are jealous, just ignore them.
Stay on course and stay committed to your dream.
Safety tips
I have travelled to Spain, the UK, the USA, Macedonia and France and met different types of people.
Whenever I am in a new country, I prefer to travel with people I know -- colleagues or people from my agency.
I always try to be alert and avoid travelling alone late in the night.