We've been asking you, dear readers, to share your inspiring fitness stories with us.
Rediff reader Vineet Sharma reveals how he went from 107 kg to 90 kg.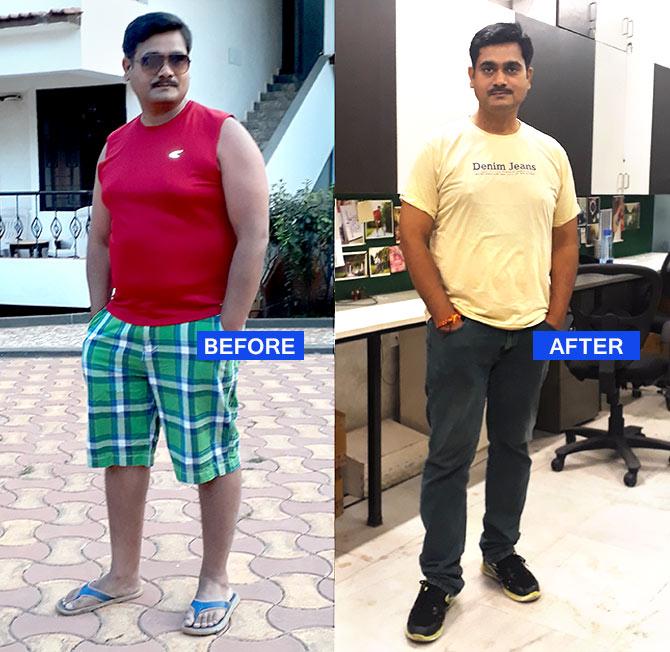 I used to be pretty lazy and led a very unhealthy lifestyle.
I was busy attending parties, eating unhealthy food and never realised how it was all taking a toll on my health.
In 2014 my weight was 82 kg. By 2017, I had gained over 20 kilos. I was 107 kg.
Gradually, I began to worry. My clothes wouldn't fit me. My wife struggled to shop the right t-shirt.
On New Year's eve I promised myself to sincerely work on my body and try to lose some weight.
From January 1, 2018, I stopped eating carbs in the evening. I replaced my meal with boiled vegetables/soup.
I tried this for a month and lost a few pounds; nothing significant.
In February 2018, I signed up at a nearby gym. But my attendance was poor.
In April 2018, I realised that if I really wanted to get back in shape, I should be disciplined and follow a schedule.
I decided to go to bed by 10 pm and wake up early by 4.30 am so I could get enough sleep and at the same time find time to work out.
This decision was fruitful.
Diet and workout
I started my day at 4.30 am with 40 minutes of brisk walking followed by push-ups. My total workout would last between 1 to 1.5 hours daily.
Morning: One glass of lukewarm water with half squeezed lemon
Breakfast at 7:30 am: Brown bread vegetable sandwich (maximum 4 breads)/poha/muesli/oats and milk/besan chilla
Brunch at 11 am: Apple/papaya/watermelon
Lunch: 2 to 3 chapati/1 papad/curd/vegetable curry/dal
Evening snack at 5 pm: 2 rusk with tea/12 soaked almonds
Dinner at 8 pm: Vegetable soup/4 boiled eggs (3 egg white + 1 full)/3 eggs omlette (2 egg white+1 full)
At 9:30 pm: One glass milk
This whole diet plan is set to a maximum of 1,700 calories and may help if you are working out only for an hour a day.
If you are more than 100 kg in weight then your body demands around 3,000 calories per day to maintain the same weight.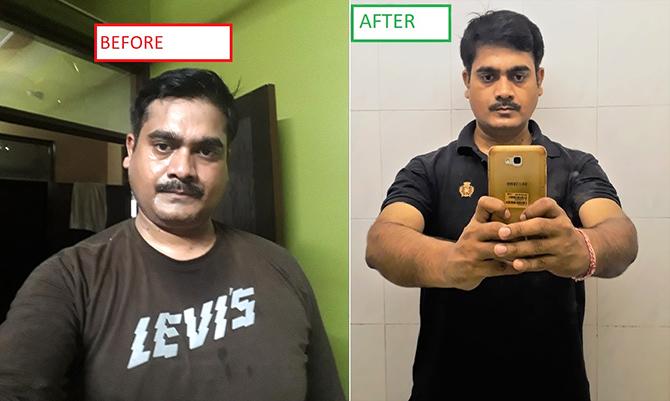 We need to understand that reducing weight involves simple math in which you need to reduce your calories intake against your current body's weight.
Don't set short term goals to lose weight because starving will lead to other health diseases.
You will only require three things -- a good quality Bluetooth headphones to listen to music while walking in the morning, a weighing machine to measure your weight daily and a smartphone with a pedometer app to count your daily workout. Remember 10,000 steps daily is a must.
What you must avoid
Restrict yourself to not more than 2 teaspoons of sugar.
Avoid excessive salt, potato in vegetable curry/parantha and outside food.
Restrict alcohol to not more than twice in a month.
Learnings
Whenever I felt low, I reminded myself this simple logic. You did not gain weight overnight; so you cannot lose it overnight. Discipline is the key.
You must follow discipline in eating, exercise and have a proper schedule.
Remember one gulab jamun or samosa is equal to 1 hour of workout; so be careful what you are eating.
---
READER INVITE
Have you recently lost weight or survived a serious health condition?
We want you to share your story with us. Tell us how you lost weight.
Share your diet plan, exercise tips, learnings and more.
Simply write to getahead@rediff.co.in (My Fitness Story) along with your NAME, AGE, LOCATION, along with a before and after photograph of your fitness journey. We'll feature the best responses right here on Rediff.com.