The invitation card is as royal and grand as the couple, says designer Uttara Shah.
Mumbai based designer Uttara Shah has designed the invitation card for Shloka Mehta and Akash Ambani's wedding.
And guess what? It has gold, gemstones and pearls too!
"This was an important and high priority brief with the client having a fantastic taste," Uttara Shah told Rediff.com over e-mail.
"It was a lot of learning and understanding that made the collaboration very enriching. We also worked equally hard to achieve what the client wanted out of the process."
"It took us 3 to 4 months to create and do justice to the design. It had to be elegant, understated, yet carry a royal touch," Shah said.
"The process saw the coming together of multiple elements and textures. In the end, they were all adding to the whole. Weaving these different techniques together was challenging yet the detailing was integral to the appeal of the invite," the designer added.
Watch the video to see how Uttara Shah and team designed Shloka Mehta's invitation card.
Video and photographs below: Kind courtesy Uttara Shah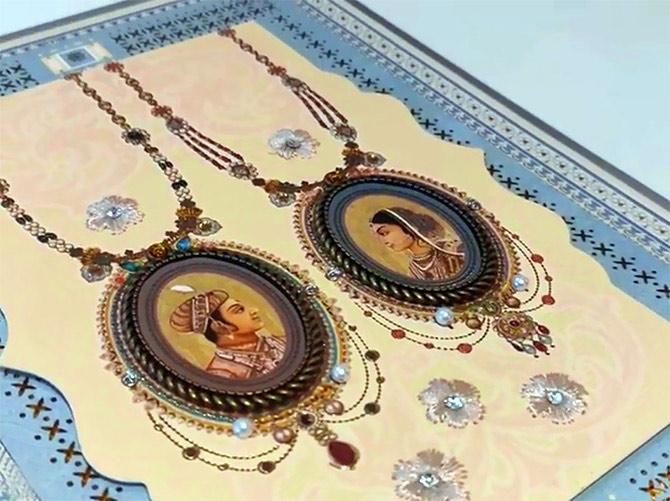 Unlike Akash's invite, which featured Lord Krishna and Radha, Shloka's card has a picture of a maharaja and maharani.
There are 10 distinct varieties of gold, gemstones, pearls and exquisite embroidery that have been incorporated into the design.
'The 10 distinct varieties of gold, the multiplicity of textures, the coming together of a diverse set of elements like pearls, gems and stones along with embroidery on paper -- are just some of the ways we made this invite unforgettable' the designer shared.