Get the latest on supermodels, style, designers and everything in between.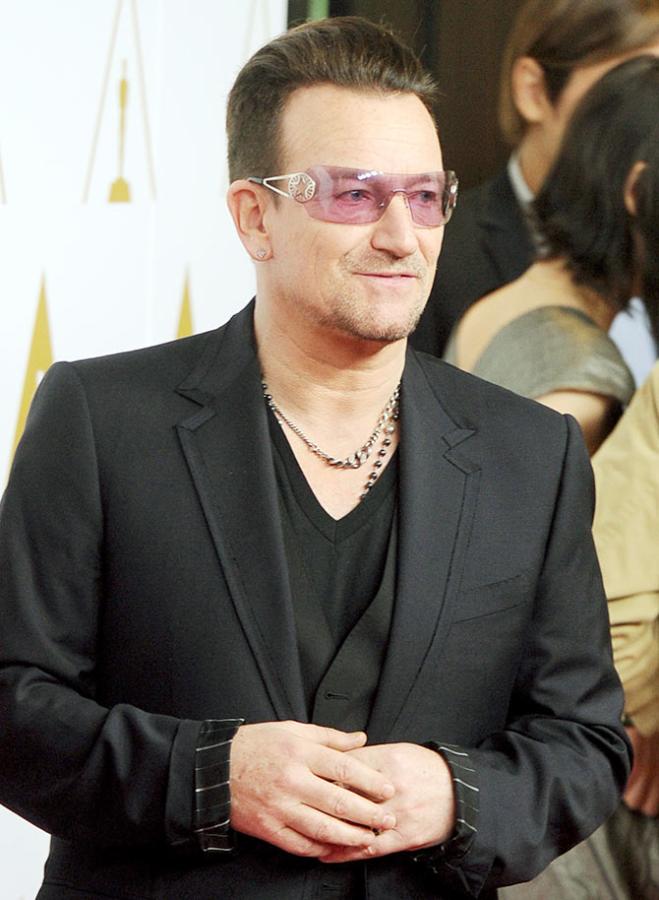 IMAGE: Bono, musician and frontman of rock band U2 is on Glamour's Women of the Year list.
Photograph: Kevin Winter/Getty Images
Quite unusual, but for the first a man was included in Glamour magazine's 'Women of the Year' list.
Bono, singer and frontman for rock band U2, -- who was felicitated with powerhouse women like model Ashley Graham, American actor Zendaya, Olympic gymnast Simone Biles and finance minister of France Christine Lagarde -- has been campaigning for women's rights.
The singer said he was "sure he didn't deserve it" but the battle for gender equality couldn't be won "unless men lead it along with women".
He further added that he was "grateful" for the honour and said men were "largely responsible for the problem, so we have to be involved in the solutions".
In fact, Glamour magazine cited that the musician's campaign 'Poverty is Sexist' -- that aimed at helping the world's poorest women -- was also considered while giving away the award.
******
Model Suki Waterhouse is now a singer!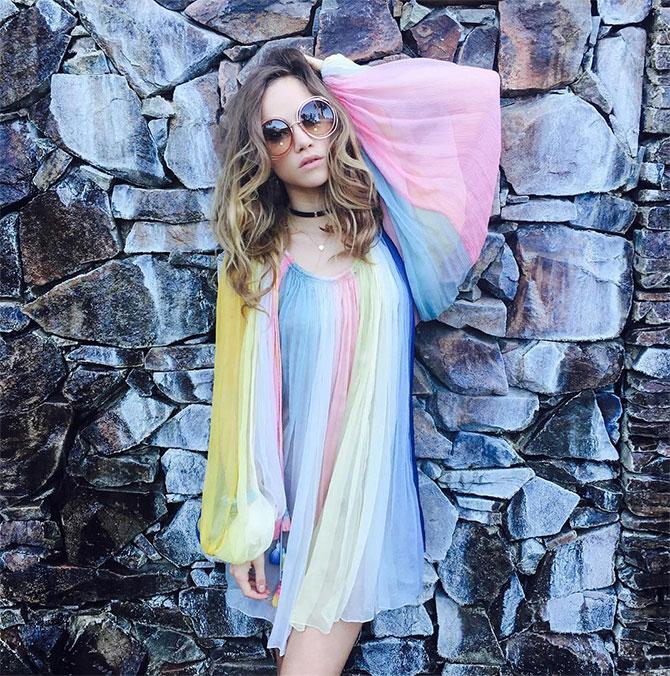 IMAGE: Suki Waterhouse has some fun with colours at the

annual Coachella Valley Music and Arts Festival this year.


Photograph: Kind courtesy Suki Waterhouse/Instagram
British model Suki Waterhouse has dropped her first single.
The 24-year-old has already tried her hand at acting and she is now adding singer to her resume with the release of a track, titled Brutally, an acoustic folk-style tune.
Suki shared a 30-second preview of the song, which is available on iTunes, and thanked Girls star Lena Dunham for featuring her track on a special edition of her Women of the Hour podcast series, reported Contactmusic.
"I put out my 1st song today," she tweeted. "It's called 'Brutally' & means so much to be featured in @lenadunham's #womenofthehour."
Lena shared the message and replied, "I love you".
******
Gigi Hadid was fat-shamed?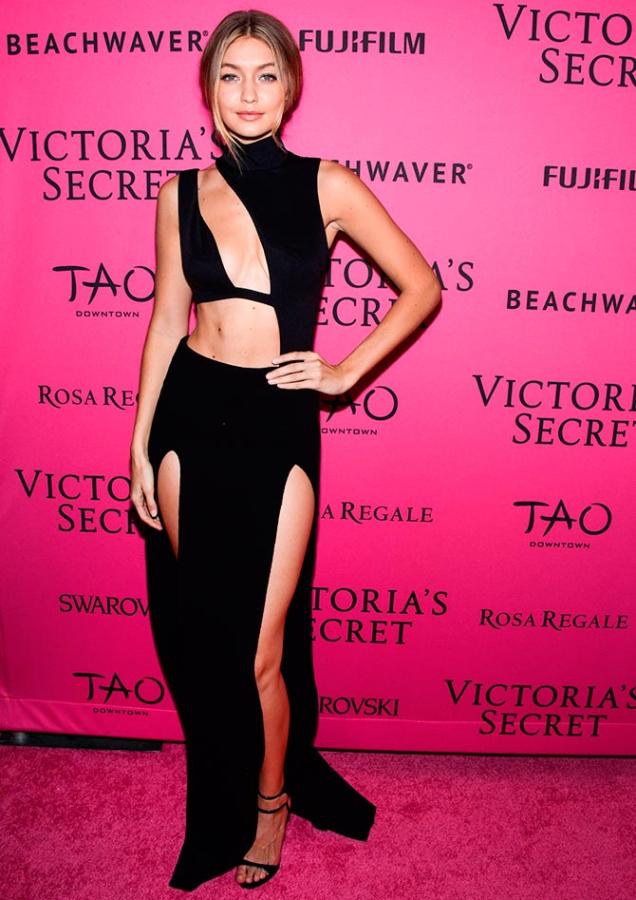 IMAGE: Victoria's Secret model and the global ambassador for Tommy Hilfiger turns up the heat in a black cut-out gown.
Photograph: Grant Lamos IV/Getty Images
We all know that Victoria's Secret model Gigi Hadid is best friends with Tommy Hilfiger.
She is not only the global ambassador for the brand, but even designer a collection Gigi x Tommy along with the noted designer.
But what most of us aren't aware of is Gigi was forced to cover herself up first time when she walked on the runway for the brand.
Guess what could have the reason been? SHe wasn't too "thin".
In an interview with Yahoo Style, 65-year-old Tommy Hilfiger admitted that Gigi was fat-shamed by one of his casting directors ahead of the Mercedes-Benz Fashion Week Fall 2015 runway show.
"Our casting director said, 'She doesn't really fit because you know she's not quite as tall as the other girls, she's not quite as thin,'"the designer told Yahoo Style. "So they put a red, white, and blue poncho on her. It covered a lot of her body unfortunately, but it received millions of hits."
But in the next season, the casting director's mistake was rectified and Gigi walked in an itsy-bitsy crochet bikini.
Now that's what we call an unforgettable comeback!
******
Khloe Kardashian slams 'interracial relationship' haters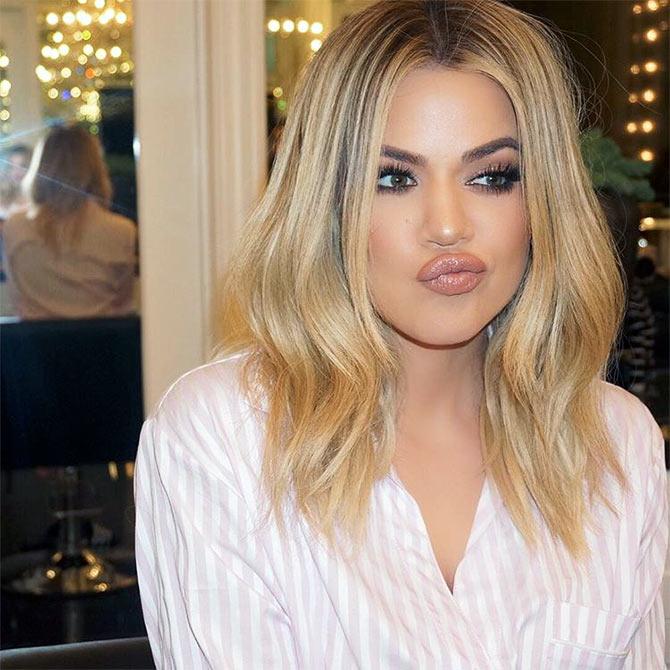 IMAGE: Khloe Kardashian is currently dating basketball player Tristan Thompson -- who is from a 'different race' -- doesn't support racism or discrimination of any kind.
Photograph: Kind courtesy Khloe Kardashian/Instagram
Reality TV star Khloe Kardashian thinks it is "crazy" that some people don't approve of interracial relationships.
The Keeping Up With The Kardashians star, who is currently dating basketball player Tristan Thompson, hit out at those who criticise relationships between men and women of different races.
Responding to a letter from fan Kelsey Wells, where she shared her experiences dating a man from a different race than her own, Khloe wrote, "Thank you Kelsey for talking about this important issue. I don't support racism or discrimination of any kind and I especially don't understand why some people are still against interracial relationships.
"Like who cares anymore?! It's so crazy because we're all human beings capable of love so why does skin colour have anything to do with it?"
******