Turbans worn by models during a Gucci show irks Sikhs.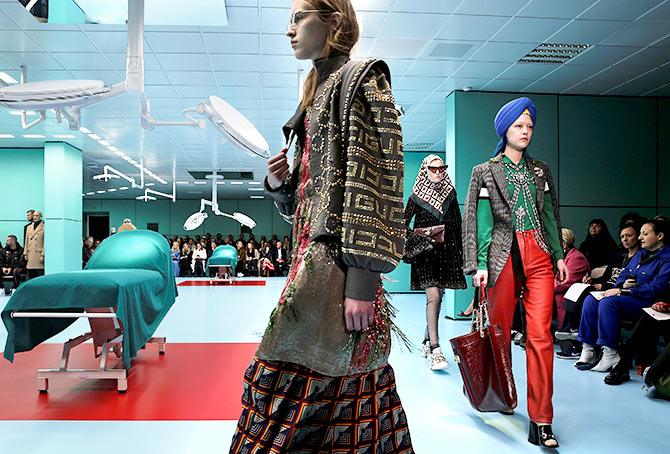 Models present creations from the Gucci Autumn/Winter 2018 women collection during Milan Fashion Week. Photograph: Tony Gentile/Reuters
Luxury fashion brand Gucci is facing a backlash from people after it adorned white models with traditional Sikh turbans down the ramp in their brand's Fall 2018 fashion week.
The move by Gucci has upset many people and who took to social media to condemn the use of turbans in fashion, by calling it "offensive" and "irresponsible", The Independent reported.
Canadian actor and model Avan Jogia began the backlash, in a series of tweets.
'Could you not find a brown model?' Jogia wrote on Twitter, along with an image of a white male model wearing a blue turban.
'And please, other people of colour, this happens to ALL of us, say something even if it doesn't apply to you personally. I got you, if you got me. Peace and love,' he wrote in his second tweet.
Prominent Sikh social activist Harjinder Singh Kukreja wrote on Twitter, 'Dear @Gucci, the Sikh turban is not a hot new accessory for white models, but an article of faith for practising Sikhs.
'Your models have used turbans as 'hats' whereas practising Sikhs tie them neatly fold-by-fold.
'Using fake Sikhs/Turbans is worse than selling fake Gucci products.'
In Sikhism, a turban is worn by both men and women as a symbol of honour and spirituality. Almost all of a person's hair is typically concealed within the headgear.
Gucci is yet to react to the development.