Food blogger and Rediff reader Preeti Alam sent us a step-by-step guide to make vegetable kebabs.
You can send us your recipes too! E-mail it to us!
Vegetable Seekh Kebab is one of the most popular vegetarian appetisers served at parties.
If you love cooking and are willing to spare a few minutes in the kitchen, you can also prepare it at home and surprise your guests.
Usually kebabs are a non-vegetarian eater's delight -- juicy marinated chunks of meat roasted over charcoal fire giving it a smoky flavour.
But you can try it with veggies as well.
Here's an interesting and easy-to-make kebab recipe for our vegetarian readers: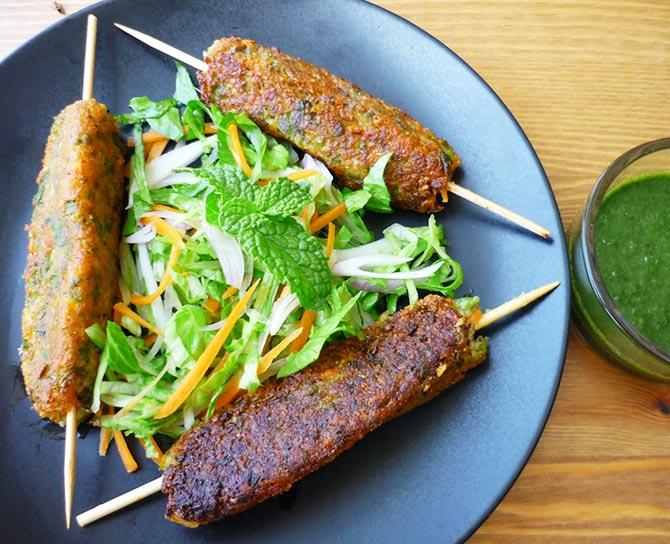 Ingredients
1 cup mixed vegetables, chopped (I have used carrots, french beans, green peas)
1/2 cup paneer
2 medium boiled mashed potatoes
3 green chillies
1 inch ginger
3-4 garlic cloves
1/4 cup fresh mint leaves
2 tbsp corn flour
1/2 tsp garam masala powder
Salt to taste
1 tbsp chaat masala
Oil for shallow frying
12-14 bamboo skewers
Method
Step 1
Place the chopped vegetables, ginger, garlic, green chillies, mint leaves and paneer in a food processor and mince them.
If you don't have a food processor, you may grate the carrot, finely chop the french beans and coarsely grind the green peas.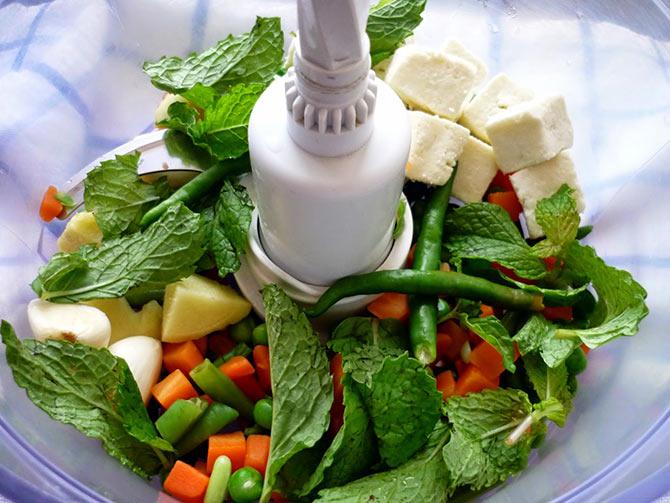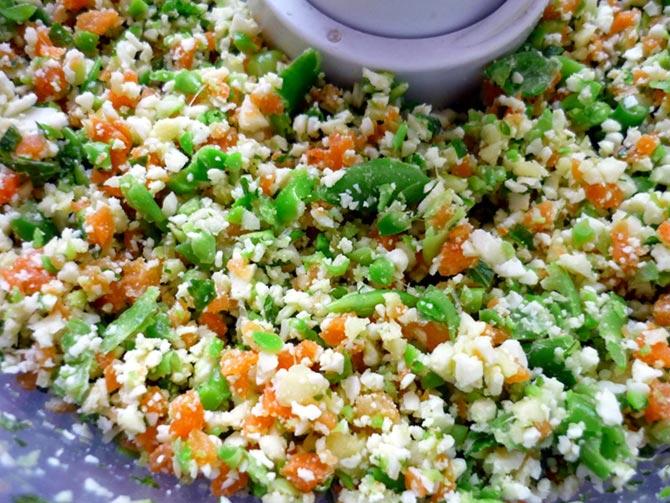 Step 2
In a large mixing bowl, add minced vegetables, mashed potatoes, garam masala powder, salt and cornflour. Mix well.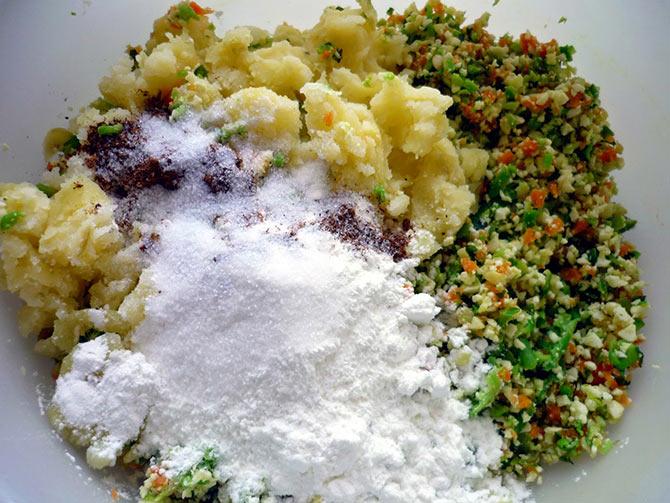 The corn flour and mashed potatoes will help the vegetables bind together so they can be shaped into kebabs.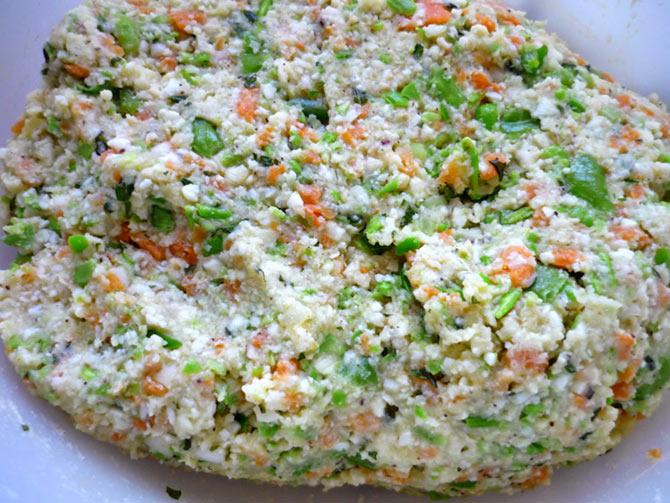 Step 3
Once the kebab mixture is ready, divide equally into lemon sized balls (approximately 12 to 14 ).
Wet your palms and shape each of them around individual bamboo skewers.
Ensure that you press the ends firmly, so that they don't fall apart.
Remember to soak the bamboo skewers in water for at least 2-3 hours before using them or they will tend to burn.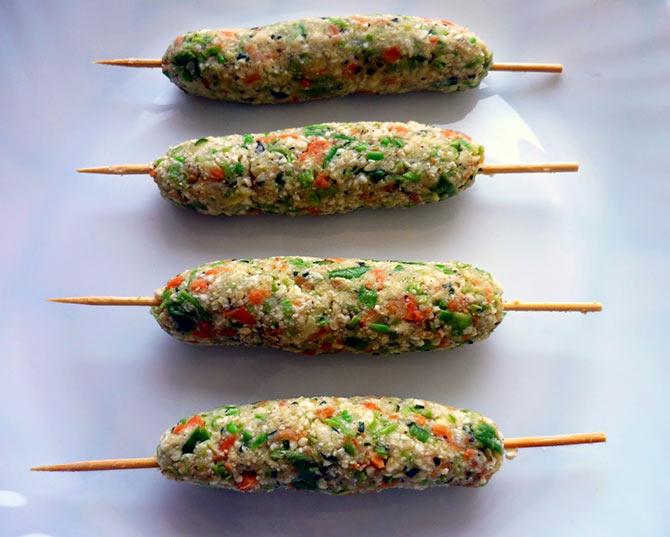 Step 4
Heat oil in a shallow non-stick pan and place the kebabs on it.
Reduce the fame to moderate and cook.
Keep rotating the skewers at intervals so that the kebabs are well done on all sides and get an even golden brown colour.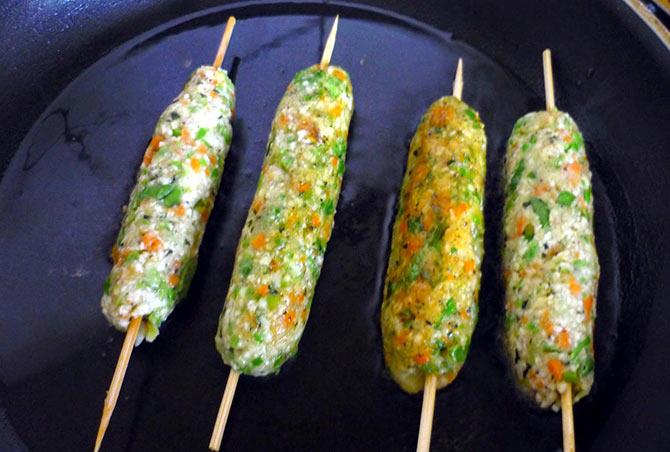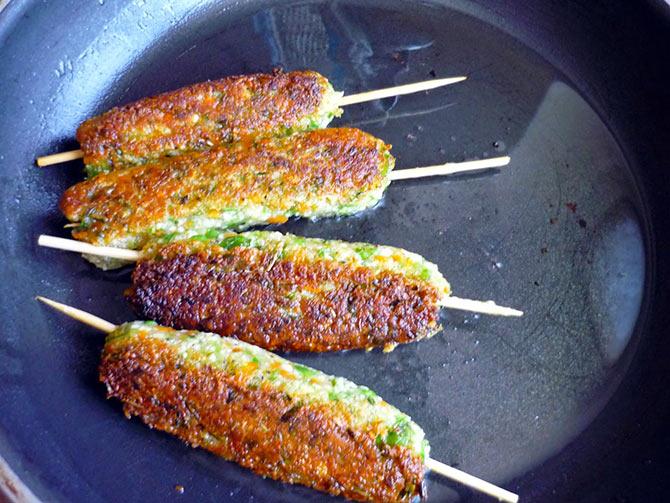 Once the kebabs are well done on all sides, drain and keep aside on absorbent paper and sprinkle some chaat masala.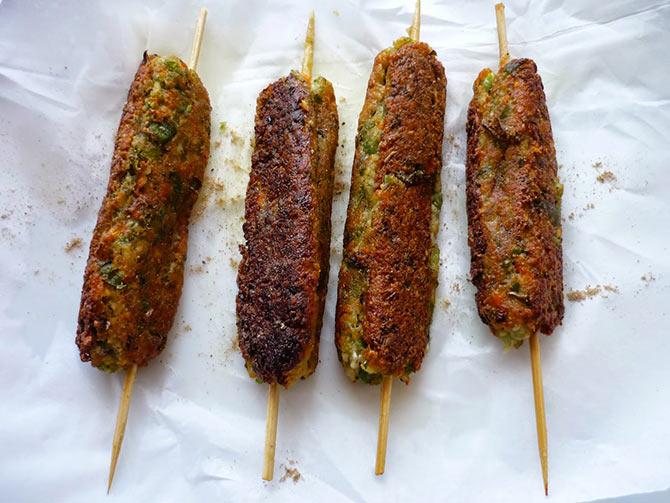 Serve hot along with freshly made salad and green coriander chutney or ketchup.
Notes:
Before you mince the vegetables ensure they are completely dry. After washing vegetables, pat dry them using a vegetable towel.
Ensure that the potatoes are well mashed and there are absolutely no lumps as these would make the kebab fall apart.
Before you start frying the kebab please test one first to ensure that the binding is right and the kebab does not fall apart. If required add one tbsp of corn flour.
Add chaat masala as soon as you remove the kebab from the pan as they are hot and can absorb the flavour well.
Usually kebabs are roasted or grilled on charcoal fire. I have shallow fried them, but if you have a grill at home you can use it to make kebabs.
Photos: www.spicynotes.net
Love food? More recipes and food features here!
ALSO SEE
Reader Invite
Do you have an interesting recipe you want to share?
Write in to us at getahead@rediff.co.in (subject line: 'Recipes') with your name, hometown and any interesting details about the origin of the recipe, along with a photograph if possible. We'll publish the best preparations right here on Rediff.com.