We'd asked you, dear readers to share your favourite monsoon recipes.
Homemaker turned celebrity chef Rakhee Vaswani sends in two easy-to-make recipes for you to try this monsoon. You can share yours too.
Don't miss on letting us know how it tasted.
Pull Apart Dabeli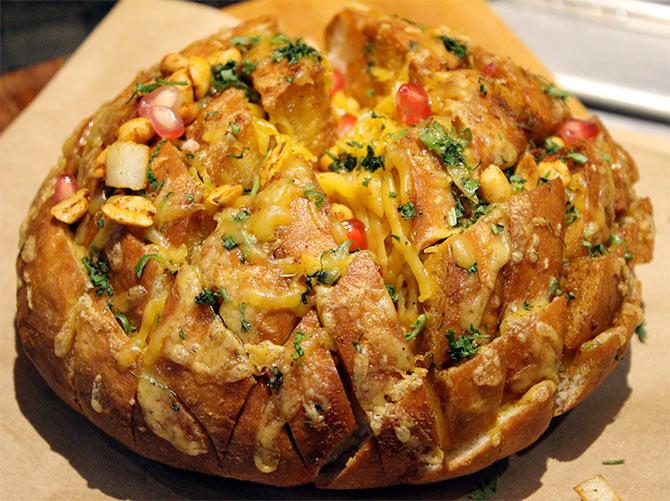 Photograph: Kind Courtesy Chef Rakhee Vaswani
Ingredients
For the bread
125 gm flour
5 gm yeast
5 gm salt
10 gm butter
5 gm sugar (grain)
1/2 egg or 20 ml milk wash
Water as required
For the Dabeli filling
60 gm butter
1 tbsp garlic (minced)
1 tsp dabeli powder
100 gm cheese
2 tbsp pomegranate
2 tbsp masala peanut
Method
For the bread
For the dabeli filling
Slit the baked bun.
Melt butter and add garlic and dabeli powder.
Spread the butter mixture in the slit bun.
Grate cheese. Bake till melted or granted.
Serve with sev, pomegranate and masala peanuts.
---
Baked Vada Vol-au-Vents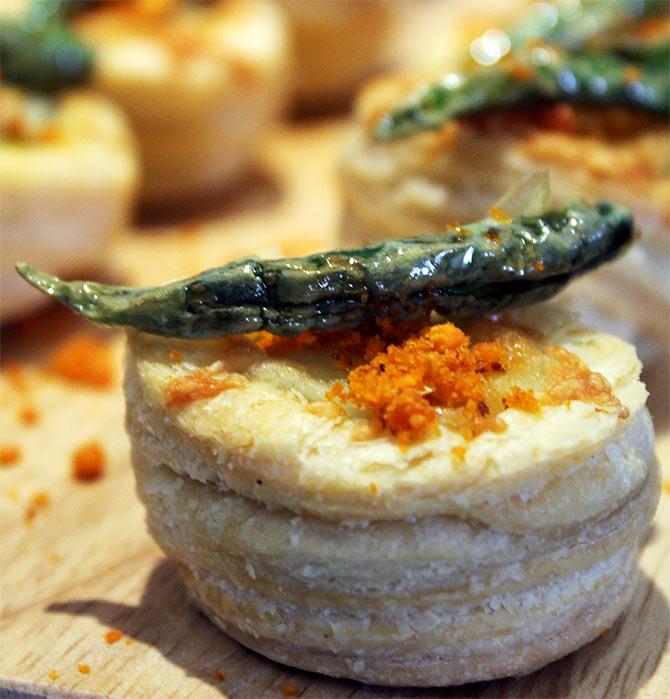 Photograph: Kind Courtesy Chef Rakhee Vaswani
Ingredients
8 to 10 vol-au-vents (a small hollow case of puff pastry)
2 potatoes (boiled)
1/4 tsp mustard
1/4 tsp cumin
A pinch of asafoetida
A pinch of turmeric
1/2 tsp red chilli powder
1 tsp oil
Salt to taste
Few curry leaves
1 to 2 green chilies
1/2 tsp garlic (crushed)
1 tbsp coriander leaves (chopped)
3 to 4 fried chilies
50 gm cheese (grated)
Red chilli-garlic chutney (for garnishing)
Method
For the filling
In a pan heat oil. Add asafoetida, curry leaves, cumin and mustard.
Add boiled potatoes, red chili powder, turmeric and salt. Cook till coated well.
Add coriander leaves. Keep the filling aside.
To assemble
Take the vol au vents and fill it with the potato filling.
Grate cheese on top. Grill in the oven till gratinated.
Garnish and serve with red chilli-garlic chutney and fried chilies.
Note: You can also use store bought canapes instead of vol au vents for this preparation.
Do you have interesting monsoon recipes to share?
Mail the details of your recipes to getahead@rediff.co.in (Monsoon recipes) along with your NAME, AGE, and LOCATION, if possible.
We'll feature the best ones right here on Rediff.com and India Abroad.
ALSO READ