Chef Vijesh Modi from The Deltin Daman shared these easy, healthy recipes.
Millet Pancakes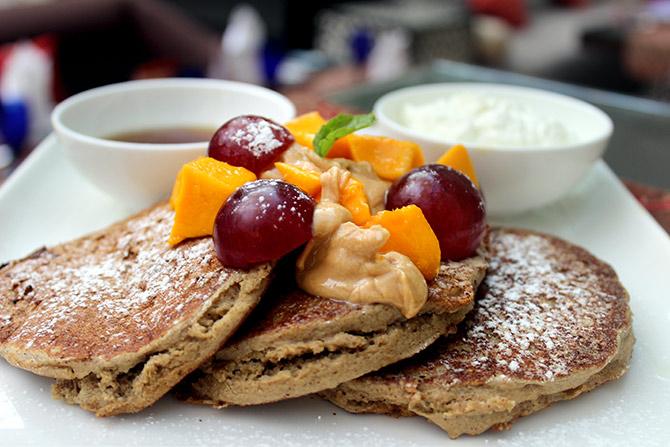 Ingredients
100 gm millet flour
50 gm ragi flour
20 gm chia seeds
250 ml milk
25 ml coconut oil
For topping
2 bananas
1 cup grapes
Peanut butter
20 ml maple syrup
10 gm hung curd
Method
Prepare chia seeds gel. Whisk half the chia gel into the millet and ragi flour.
Add milk and whisk well to remove lumps until you get a dropping consistency.
Heat a pan on medium heat; add 1/2 tbsp coconut oil pour the pancake batter into the pan. Each pancake should be 10 to 12 cm in diametre.
Cook one side and flip the pancake using a spatula to cook the other side.
Repeat for the rest of the batter.
Place all pancakes in a plate and top with peanut butter and fruits.
Top with hung yogurt, grapes and banana.
Serve with peanut butter and maple syrup.
Quinoa Porridge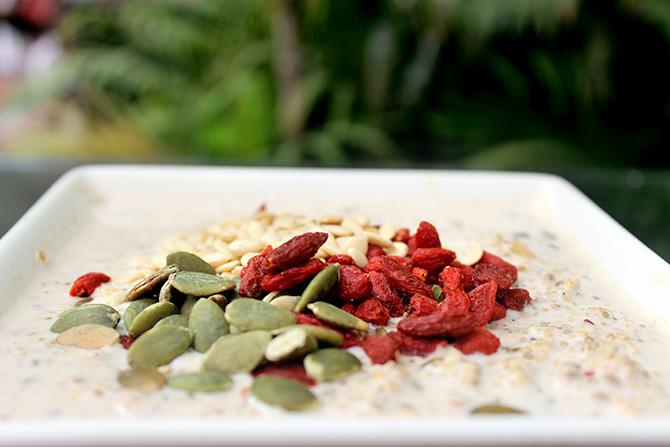 Ingredients
50 gm quinoa
10 gm almonds
5 gm pistachios
5 gm blueberries
1 apple
5 gm coconut flakes
2 gm cinnamon
5 gm raisins
100 ml milk
50 ml honey
A few goji berries and sunflower seeds (to garnish)
Method
Heat a deep bottom pan. Add 3/4th cup milk and quinoa.
Add all nuts and allow to simmer for about 10 min and rest of the milk.
Cook for about 10 to 15 minutes.
Check and add water if required to adjust consistency.
Add honey as sweetening agent.
Top with goji berries and sunflower seeds. Serve hot.