Executive Chef, Dinesh Mhatre, Hilton Mumbai International Airport shares delectable recipes for your New Year party.
Cauliflower and Vanilla Panna Cotta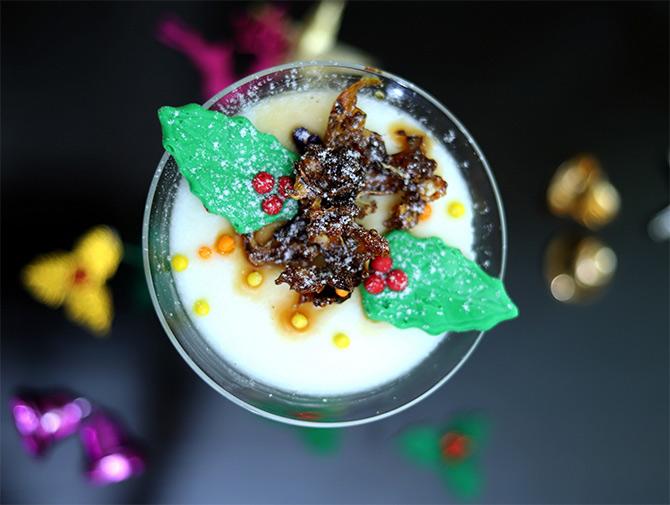 Ingredients:
200 gm cauliflower florets
2 gm vanilla bean pod
100 ml fresh cream
100 ml whipped cream
20 gm agar agar
5 gm salt
Method:
In a thick bottom pan, take clean cauliflower, fresh cream, salt and vanilla pod.
Keep it on slow fire boiling for 20 minutes. Take out the vanilla pod.
Make a fine puree of the mixture, add agar agar and whipped cream.
Pour the contents in a mould and keep it in a chiller for 2 to 3 hours. Serve it chilled.
---
Homemade Panettone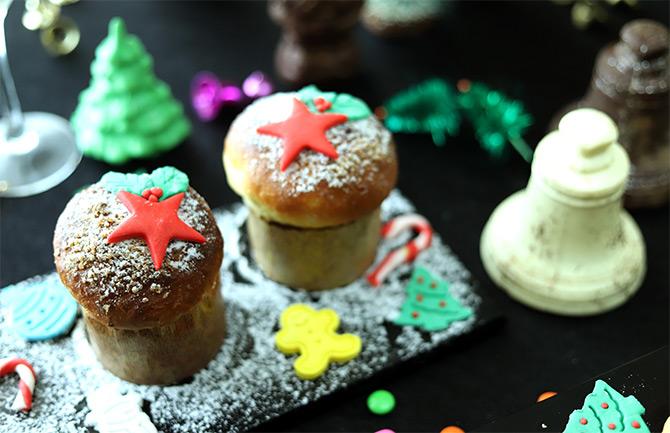 Ingredients:
1 cup raisins
2 tbsp light rum
2 tbsp hot water
3¾ cup all-purpose flour
⅔ cup granulated sugar
4 tsp sour dough
½ tsp salt
¼ tsp lemon zest
½ vanilla bean (split in half lengthwise)
3 eggs
⅔ cup tepid water
1 tbsp honey
10½ tbsp unsalted butter (well softened)
1 tbsp unsalted butter (melted)
1 tbsp unsalted butter (chilled)
⅔ cup candied orange peel in ¼ inch pieces
Method:
Day 1: Soaking
Mix refined floor and water. Keep it aside to prepare as a sour dough
Soak raisins, lemon zest, candied orange peel, light rum and hot water. Keep soaking overnight
Day 2: Making the dough
In a bowl take sour dough, all the soaked ingredients mixture.
Add all-purpose flour, granulated sugar, salt, vanilla bean, eggs, tepid water, honey, unsalted butter (melted) and mix well. Keep it rising for 12 to 15 hours.
Day 3: Finishing the dough and baking
Mix the dough with chilled butter and keep it for resting for 2 hours.
Pour the dough in a panettone mould and keep for rising for about 45 minutes.
Bake it for 20 minutes at 180°C to 200°C temperature. You can use powdered sugar to decorate the ready sweet bread.
---
Hazelnut Crusted Cheese Potato Croquet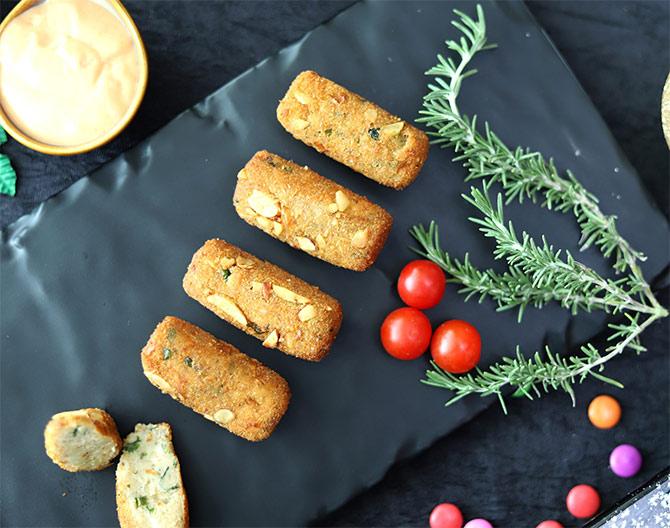 Ingredients:
200 gm mashed potato
80 gm processed cheese, grated
10 gm chopped coriander
5 gm salt
2 gm black pepper
100 gm bread crumbs
60 gm hazelnut, crushed
300 ml refined oil
Method:
In a bowl take mashed potato, grated cheese, coriander, salt, black pepper and mix it well. Check for the seasoning.
Make small cylinder shaped dumplings, coat it with a mix of bread crumbs and crushed hazelnut.
Ina frying pan, heat the oil and shallow fry, till you get a nice golden color. Serve it hot.
---
Peanut Butter Cookie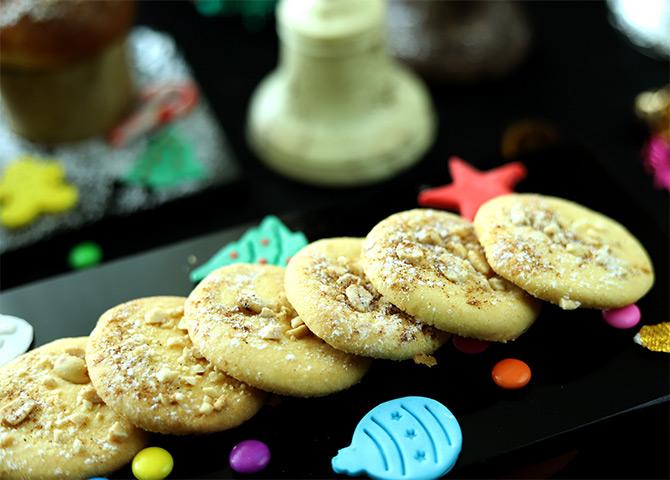 Ingredients:
175 gm butter
175 gm peanut butter
80 gm brown sugar
100 gm castor sugar
2 gm salt
350 gm flour
2 gm baking soda
80 gm crushed peanuts
Method:
In a bowl, take soft butter, peanut butter, castor sugar, brown sugar and whisk it nicely till you get creamy texture.
Add salt, flour, baking soda, crushed peanut. Mix it nicely and make any shape of your liking for the dumplings.
Bake it for 12 to 15 minutes at 180°C to 200°C temperature. Cookies are ready to be enjoyed.