This juicy roast chicken by Esora's Head Chef Punit Kewalramani will make your Easter brunch a memorable affair.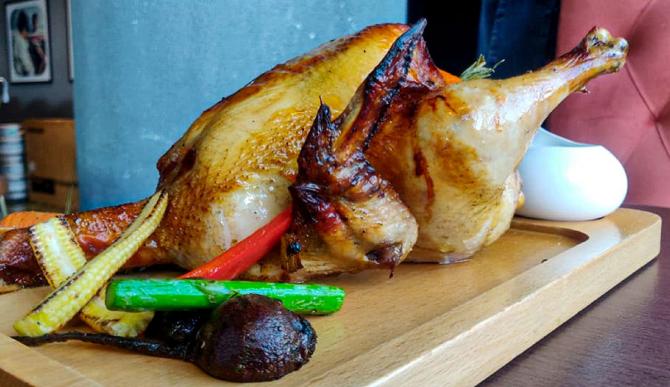 Whole Roast Chicken
Serves: 4
Ingredients
1 whole chicken, around 1 kg
20 pods garlic, chopped

10-12 pods garlic, unskinned
3-4 tbsp fresh rosemary
5-6 sprigs gm fresh thyme
1 large carrot, chopped into batons or 2-inch round slices
3-4 stalks celery, leaves on, chopped fine

5-6 mushrooms, chopped into slices
1 medium potato, chopped into chunks, skin on, if you prefer
15 gm leek, thickly chopped
2 large onions, chopped into chunks
40 gm butter
2 tbsp Worcestershire sauce
1 tbsp soy sauce
Salt to taste
Black pepper powder to taste
Method
Prepping the chicken
Wash and pat dry the chicken.
Keep the skin on as it will ensure the chicken stays juicy, even after baking.
Remove the neck and giblets (liver, heart, gizzard) from inside the chicken and set aside.
Preparation