'Should I hold , exit or accumulate in 1-3 months short term and 1+ year long term?'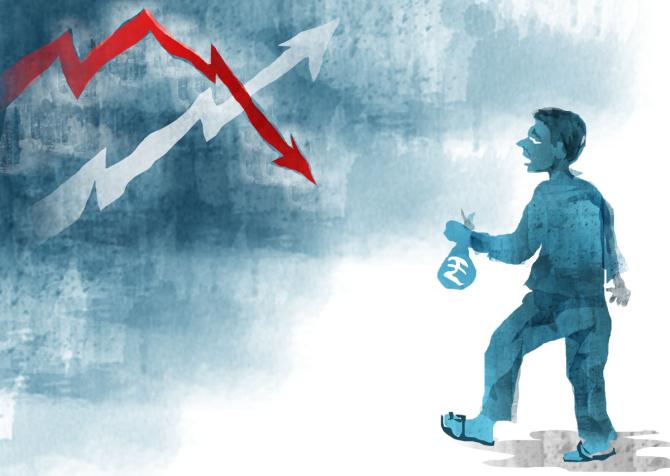 Ajit Mishra, vice president, Research, Religare Broking, answers your queries:
---
Chidambarasamy Manickam: Can you let me know if I should hold or exit the below scripts please?
Ajit Mishra:
Sriparna Mondal: I have the following stocks for the past 4-5 years. Other than the ETF, almost all are down 50 per cent from the purchase price. Does it make sense to hold the stocks any longer or how should I exit and what stocks I can buy in lieu? Please advise.
Ajit Mishra:
Deepti Ambadipudi: Bought 100 shares of Bambino Agrotech at Rs 211. Should I hold, exit or add? Please guide me.
Ajit Mishra: Exit
Srinu Kodi: I have been seeing your opinion on many people's portfolios and I am thankful for your unbiased review.
Recently, I have purchased these stocks with some conviction, wrt long term like 2-3 years as of now or more. I would like to have your view once if possible.
I am not in panic mode looking at market conditions as of now as I know these are quality stocks I have invested in.
Note: I purchased Gland Pharma for the short term recently as I see some potential till the time Covid is there, as it is doing vaccine manufacturing for Sputnik. I am thinking about profits for Gland Pharma.
Could you please tell me if I can hold this or sell after it reaches Rs 2,800 level? Please tell me if I can hold this for the long term.
Ajit Mishra: Yes, one can hold for long term
Sukanta Mandal: Need your suggestion on these -- whether to hold, exit or accumulate -- in 1-3 months short term and 1+ year long term. Awaiting your thoughts and views.
Ajit Mishra:
Rohith Adiga: I am a starter in the stock market and trading from the last six months. Below is the list of stocks I have purchased. Advise me about buying additional stock, or holding or selling.
I am also looking for a short term plan of 6-10 months starting from June. Please suggest from my existing stock list or a new stock for short term gain. Also would like to know when to purchase the additional stock, when it's growing or when it dips.
For example, I purchased 50 shares of Tata Motors @ Rs 124, then added another 25 when it went to @ Rs 185 and again purchased 10 @ Rs 290. Now my average pricing is @ Rs 244.
Ajit Mishra:
Jasminkumar Maheshbhai Gajjar: I have been following your posts on a regular basis. I have invested for long/mid-term. Request you to advise for the below stocks held by me.
Ajit Mishra:
Rajkumar Dhyani: Namaskar. I'm a small investor who looks for mid and small-cap scrips to invest in. I can invest Rs 5-10K monthly in stocks. I'm looking for a long-term vision, probably 1-2 years vision. Can you please suggest few important scrips which match my requirement?
Ajit Mishra: One can invest in Finolex Industries, Ashok Leyland, INOX Leisure, Exide Industries, Kansai Nerolac.
Marshall: Please review my portfolio, if I can hold, accumulate or exit from these stocks. I'm not sure of the period if I have to hold these stocks. Please advise.
Ajit Mishra:
Rane Tushar: I hold following stocks. Which should I hold and which should I exit?
Ajit Mishra:
Sunil: I want to invest Rs 2 lakhs rupees for long term. Please suggest and guide me about some good equity shares.
Ajit Mishra: Bharti Airtel, ICICI Bank, Nippon AMC, Britannia Industries, Maruti Suzuki
GOPAL CHAKRABORTY: I am holding the following mentioned stocks for the long term. Kindly advise.
Ajit Mishra:
Shyam Kannacham Veettil: I would like to have hold/exit strategy for following stocks. I can hold long term
Ajit Mishra:
Rajesh Nair: I have 50 shares of Dixon Technologies at an average price of Rs 3,742. If I am looking at holding these for a horizon of three years, should I hold/accumulate or exit these ?
Ajit Mishra: Hold the stock. Accumulate on dips only.
Nitesh Shah: I have these shares. Can you advise if I can hold, sell or buy more?
Ajit Mishra:
Please mail your questions to getahead@rediff.co.in with the subject line 'Ask Ajit', along with your name, and Mr Ajit Mishra will offer his unbiased views.
Disclaimer: This article is meant for information purposes only. This article and information do not constitute a distribution, an endorsement, an investment advice, an offer to buy or sell or the solicitation of an offer to buy or sell any securities/schemes or any other financial products/investment products mentioned in this QnA or an attempt to influence the opinion or behaviour of the investors/recipients.
Any use of the information/any investment and investment related decisions of the investors/recipients are at their sole discretion and risk. Any advice herein is made on a general basis and does not take into account the specific investment objectives of the specific person or group of persons. Opinions expressed herein are subject to change without notice.
Feature Presentation: Ashish Narsale/ Rediff.com